I got a wonderful birthday gift yesterday. My AMAZING, dear friend and follow book lover sent me a $30 gift certificate for Amazon. She knows I got a Kindle for my birthday (a couple months early *snicker*) and she wanted me to pick up something off my wish list. I *heart* her. She is a great lady, isn't she?
So that got me thinking about which books are my top priority. My friends on Twitter have given me several suggestions, and in some cases, ultimatums (yes,
Queen B
… I'm talking about you!) I thought about it and here are the top 3 series on my wish list:
First up…
Mercedes is Volkswagen mechanic living in the Tri-Cities area of Washington. Her native american heritage has gifted her with the ability to take the form of a coyote at will. She's surrounded by far more powerful supernatural beings, including werewolves, vampires and an assortment of fey.
Knowing that the Kate Daniels series is in my Top 5 of all time, I've been told by my tweeps and book friends that I will LOVE this series.
Next on the list…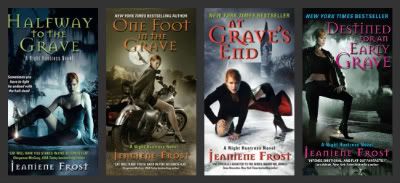 From Ms. Frost's website:
The NIGHT HUNTRESS series is an urban fantasy romance featuring half-vampire heroine Cat Crawfield. My heroine and

hero have a difficult road ahead of them and they will have to work very hard to earn their HEA (happily-ever-after), so their story isn't over with the first book. Hope you come along for the ride.
All I know is that my Tweeps drool over Bones and I have heard so much innuendo about "Chapter 32" I think I may burst!
Third on my list…
From the authors' website:
The Southern Arcana books are novel-length paranormal romance set in a contemporary world where shapeshifters, psychics and spell casters of all sorts live secret lives beneath the radar. The paranormal world of Southern Arcana is not always a pretty place, so the books contain their share of violence and death, but if you make it through to the other side you'll always find a happy ending.
I don't know much about this series, except that it got rave reviews from several of my tweeps.
Honorable mention…
This series has been on my wish list for about a year (remember, I only started reading paranormal romance in the late fall of 2008).
F
ir
st of all I *heart*
Larissa Ione
(who makes up one half of the writing team that is Sydney Croft). She is an amazing author. I have heard such HOT things about this series, and I cannot wait to read it! I purchased the first book,
Riding the Storm
, for my Kindle last month.
A storm's rage. A woman's desire.
A man with the power to set them both free
He can summon lightning at will. Emerge unscathed from the center of a tornado. Strip a woman down to her barest defenses through the sheer force of his sexuality. He's gorgeous, dangerous, and the target of parameteorologist Haley Holmes's latest mission. Haley has been dispatched to the Louisiana bayou to investigate the phenomenon known as Remy Begnaud – man with a gift he never wanted: the ability to control a storm's fury. But even a woman trained in bizarre weather phenomenon has no defense against the electrifying power of the Ex-Navy SEAL…a power his enemies would kill to control.
With her agency monitoring their every move, Haley's job is to seduce Remy, gain his trust — and help him harness his extraordinary gift. But who will protect her from this voracious lover who's introducing her to a new world of erotic thrills – a man who grows increasingly insatiable with each new weather event? Haley knows a big storm is approaching –and with it will come unexpected delights. But, so, too, will the storm unleash her greatest fears: An enemy bent on destroying Remy. And her worst fear of all…falling in love with this magnificent man, then having to betray him…
SO, with all of these great books on my wish list, I am so excited to get reading. BUT FIRST, I need to finish some of the books I have in my TBR pile. What a great dilemma to have!