Today I have the privilege of bringing to you author, Devyn Quinn. Devyn has been writing off and on for over 20 years, and has a backlist of over a dozen books. She lives in the scenic Southwest, though she has called several other states home. She is a huge fan of dark gothic music & shoot-'em-up action movies. But reading is her first love and Devyn spends too much time with history books, as well as feeding her addiction for celebrity biographies. She especially enjoys reading books on Hollywood before the 1960's and is crazy about Marilyn Monroe, her legend and her myth.
Devyn lives with her cats, ferrets, and one little single Shih Tzu doggie, Tess.  Please welcome Devyn to my blog.
Twimom: Hi Devyn! Welcome to
That's What I'm Talking About…
Devyn: Thanks for having me here.
Twimom: Your new Dark Tides Series features mermaids… What inspired you to write a series about the mers? 
Devyn: I was actually not inspired, so much as prompted. My agent had a request from NAL editor Lindsay Nouis for a mermaid project and I was one of the authors who put together a proposal.  Since I had no real knowledge of sea-lore, I didn't expect my project would be the one they chose to buy. You could have knocked me over with a feather when my agent called to say they'd made an offer for a three book series.
Twimom: As someone that has read your first Dark Tides' book:
Siren's Call
, I'd like to tell you that your mermaid lore is interesting and exciting. Where do you think the series will go next? Are you contracted to write more books?
Devyn: Honestly, I have no idea where it will go.  I am contracted to write three in the "Dark Tides" series and I do each as it comes. I never know what I will write until I am writing, LOL.  
In addition to the mermaid series, I've also signed a three-book deal for a new dark vampire themed series, tentatively titled "Darkness Descending". To read about my backlist and forthcoming novels, please visit
www.devynquinn.com
for details.
Twimom: Sounds exciting! Other than writing, what keeps you busy?  
Devyn: I run a ferret rescue, for the rescue and re-homing of the domestic ferret. In addition, I am crazy about electronics and dying to get my hands on an iPad. If it is a gadget, I want to play with it, LOL! 
Twimom: Wow, a ferret rescue! That must be a rewarding and sometimes frustrating job. How do you find time to read? You mentioned that you love biographies and history books, do you enjoy other authors?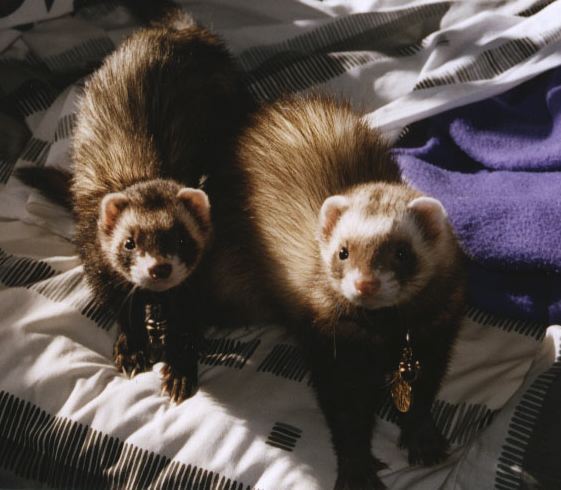 Devyn: I do love to read biography and history, and the authors vary. Some of my favorite fiction authors include King, Grisham and McCourt.
Twimom: What is your favorite book you've read in 2010?
A: The best I have read so far was Andre Agassi's Open, a biography of his life and career in tennis. Loved it!
Devyn, thank you so much for stopping by today and sharing with us a little about yourself and your books.
Readers: Be sure to stop back tomorrow when I review Devyn's upcoming Dark Tide's novel:
Siren's Call
.