Today I have the honor of bringing to you one of my favorite authors, Meljean Brook.  Meljean was raised in the middle of the woods, and hid under her blankets at night with fairy tales, comic books, and romances. She left the forest and went on a misguided tour through the world of accounting before focusing on her first loves, reading and writing–and she realized that monsters, superheroes, and happily-ever-afters are easily found between the covers, as well as under them, so she set out to make her own.
Meljean lives in Portland, Oregon with her husband and daughter. Please help me welcome Meljean to
That's What I'm Talking About
. AND look for details on for a giveaway at the end of this post!!
Twimom:
Meljean, thank you so much for taking time from your busy schedule to join me at
That's What I'm Talking About.
You have a new book – new series – new genre coming out tomorrow… How are you doing?
Meljean:
Pretty good. I haven't been this nervous about a release since my first book came out, and I have a permanent caffeine IV, and I don't sleep much anymore … but that's kind of the life of a writer, I think, and I can't think of any other life I'd want to have. So I'm swell, thank you! 😀 
Twimom:
I read that you have wanted to do "Steampunk" for quite some time. What inspired you in developing your
Iron Seas
world?
Meljean:
The first inspiration, and one that I don't mention often, is simply historical romance. I love that genre, and yet I know that I could never write a historical that wasn't twisted in some way … but steampunk is a historical (with a couple of big differences). 
A more direct inspiration was Neal Stephenson's THE DIAMOND AGE, and his Neo-Victorians. I just wanted them to be grittier, and to feel more industrial, and with technology that changes not just their setting but on a physical level (because of that, I'd say that China Miéville was an influence, too.) 
Twimom:
 I recently described steampunk as "historical with a twist of sci-fi," I hope I got it right!  With respect to the
Iron Seas
series, have you plotted out several adventures? Or is it book-to-book? Are you contracted to write more stories? If so, can you give my readers a hint what is ahead?
Meljean:
I plan to keep the books loosely connected, but have each one stand alone. Unlike the Guardian series, there will be no overarching plot – if you pick up book three in the series, it won't matter if you've read the first two books. 
I have one more full-length novel under contract, and that will be out November of 2011. For those of you who have read the novella in BURNING UP and THE IRON DUKE, you'll recognize Lady Corsair, the mercenary airship captain. HEART OF STEEL is her story. 
After that, I don't have any more stories under contract, but I have several planned. Whether I'll write them or not depends on the reception to THE IRON DUKE and HEART OF STEEL – if they do well, I'll probably be able to go to contract for another couple of steampunk novels. 
Twimom:
 OH… Lady Corsair! It's going to take a very special man to win her heart! I cannot wait to find out more!!
Now, I think it's no surprise to you or my readers that I LOVE your
Guardians
series… I know you have said only 2 more books *sobs*… Can you tell us a bit more about what is to come for my favorite angels, demons and vamps?
Meljean:
Well….obviously I have to get you-know-who out of Hell, but I'm not saying when that will happen *evil grin* I really want this series to go out on a high note, and I think there are still a few surprises in store for our characters (and the readers!)  
The next book, DEMON MARKED, will focus on Nicholas St. Croix and his heroine – a woman who has literally been through Hell. Their story centers on the romance, but in the course of finding their happily-ever-after, a LOT will happen that affects the Guardians and the war in Hell. 
And then there's Michael's book…but I'm not saying anything about that one yet 😀
Twimom:
 *pouts* I don't know if I can wait for poor Michael's book. You are killing me (but I mean that in a good way!!)  What do you enjoy most about writing? What types of stories are your favorite to write? Do you have anything else in the pipeline you want to share with us?
Meljean:
I don't know if I love writing itself. I love words, I love putting the story together, but the *writing* part … gah, shoot me now. I do love it, however, when I look back at what I've written and feel like I've nailed the sentence or the scene or some aspect of the story. I love it when the words manage to convey EXACTLY what I wanted the story to say. That's such an incredible, satisfying moment. 
Of course, it's equally frustrating when I can't get the scene across perfectly. 
There's not much in the pipeline yet. I'm finishing up the next two Guardian books and working on the next steampunk novel … and then, I'm not sure. I've got a solid idea of what I want to write after the Guardian series, but I haven't run it past my agent or my editor, so it might come to nothing at all. 
Twimom:
 Well, I'm sure that whatever you come up with will be fabulous. You have a gift for putting words together, and I for one, am so thankful you do it!
What are your hobbies/interests when you aren't working?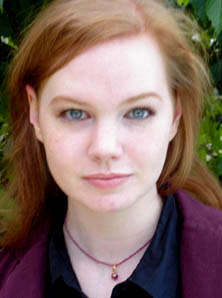 Meljean:
…I don't understand this question. 
Twimom:
 Hahaha… Okay, I'll let it slide!  What book are you currently reading? What is your favorite book you've read so far in 2010? What book are you looking forward to reading? 
Meljean:
I'm not reading anything currently – just working. But I recently finished Zoe Archer's first two books in her Blades of the Rose series, which are fabulous and fresh – and I hope we'll soon see more of these historical-paranormal adventure romances, from Archer and just in general. I also loved Caitlin Crews' KATRAKIS'S LAST MISTRESS, a Mills & Boon Modern romance (it will be available as a Harlequin Presents in March.) And while I was sick last week, I sniffled my way through ROOM by Emma Donoghue, which was one of those books whose premise is almost too terrible to bear, and yet the narrator's point-of-view and voice so incredibly compelling and original, impossible *not* to read. So that was fantastic. 
I'm looking forward to digging through my TBR pile, actually. I have SO MANY books that I need to finally read. It's painful to look at them, lonely and wasting away on the shelf, with no one to love them. One day, though – they will be all mine. 
Twimom:
 I understand the TBR pile anxiety… As do many of my readers, I'm sure. That's why I love having a Kindle–you can't see the piles of unread books!  
Meljean, thank you so much for coming by! It was a pleasure chatting with you.
Meljean:
Thank you so much for having me! 
Be sure to stop back tomorrow when I have my review of
The Iron Duke.
READERS: Don't forget about my giveaway for a copy of
The Iron Duke!
Please leave a comment on today's interview or any of my "The Iron Duke Week" posts to enter (available to US citizens only). For complete rules, please go
HERE
.
And please note that although the contest is US only, I LOVE comments from all of my readers. Please note if you are not entering the contest!