KRESLEY COLE 
Yep, you've read that correctly! I'm hosting my first ever reading challenge. But me being me, I'm doing it in my own way!  
Kresley Cole's fabulous (so I've been told) IAD series has been on my wish list since I started reading paranormal romance books two years ago.  But to date, I still haven't made the time to read the books. It's tough carving out time to read a well-established series such as IAD. There are TEN stories out to date (8 full-length books and 2 anthology/novellas), with the 11th book coming in February 2011.  For more information about this series, please visit Ms. Cole's website HERE.
THE PLAN.  Since I am crazy busy just trying to read and review the books I already have, and I know that there are others out there in the same boat, I wanted to have a plan to read the stories and not get overwhelmed. So I plan to read one book/story per month starting January 2011.  I will post my review and lead an online discussion of the book on the THIRD FRIDAY of each month (schedule posted below).
I am very excited about this reading challenge and I hope that
YOU
will join me – whether you are a newbie like me, someone that's read a few of the books, or you are looking to do a re-read of the series.
HOW TO JOIN IN THE FUN. Please use the "linky" tool below to sign up for the challenge.  If you have a blog, include a link so others can find you.  You do NOT have to be a book blogger to join in – you can use a GoodReads or Shelfari account as your link.  I ask that if you participate that you 1) read the stories according to the schedule, 2) on the day listed below, post a review or commentary about the book at your blog or "linky site," 3) HAVE FUN!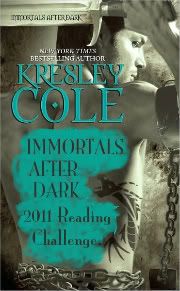 I've created a button for the challenge, and I hope you will add it to your blog/website if you have one.  I look forward to jumping in with both feet and hope you will join me.  Let me know if you are interested (no obligations) or if you have any suggestions.  
Thanks and Happy Reading!
READING CHALLENGE SCHEDULE:
January 21: "The Warlord Wants Forever" 
      in PLAYING EASY TO GET
February 18: A HUNGER LIKE NO OTHER 
March 18: NO REST FOR THE WICKED
April 15: WICKED DEEDS ON A WINTER'S NIGHT
May 20: DARK NEEDS AT NIGHT'S EDGE
June 17: DARK DESIRES AFTER DUSK
July 15: KISS OF A DEMON KING
August 19: "Untouchable" in DEEP KISS OF WINTER
September 16: PLEASURE OF A DARK PRINCE 
October 21: DEMON FROM THE DARK
November 18: DREAMS OF A DARK WARRIOR