Mercy Blade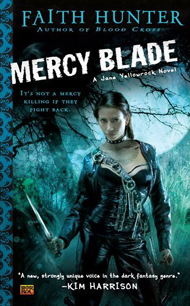 Author:
Faith Hunter
Release Date: January, 2011
Publisher: ROC/Penguin Group
Genre: Urban Fantasy
Format(s): Paperback (320), ebook
I received a copy of this book from the PUBLISHER for the purposes of an honest review.
From Goodreads:
Jane Yellowrock is a shape-shifting skinwalker − and a vampire killer for hire. But lately she's found herself taking blood money from the very vampires she used to hunt… 
Things are heating up in the Big Easy. Weres have announced their existence tot he world, and revived the bitter tensions that run between them and their old enemies: vampires. As a trusted employee of Leo Pellissier, Blood Master of the City, Jane finds herself caught in the cross fire. 
When Jane is attacked by a pack of marauding were-wolves, she is thankful for the help of a mysterious stranger named Girrard. He explains that he used to be Leo's "Mercy Blade," a sacred position charged with killing vampires who have gone insane. What Jane doesn't know is why this powerful assassin left New Orleans − or, more troubling, why he's now returned. It's definitely not to make Jane's life easier…
What B is talking about:
Jane Yellowrock is a "Skinwalker," and the last of her kind. At the beginning of the book, she and her boyfriend have packed up her belongings from her home in the Appalachian Mountains and are preparing to move her back to New Orleans where she will continue in the employ of Leo Pellissier, Master Vampire of the City. Were cats and wolves have announced their presence to the world, and some of them are looking for revenge. Throw in a new, mysterious player with abilities Jane's never encountered before, and things quickly become more complicated and dangerous than Jane could possibly be prepared for. 
Mercy Blade is the third in the Jane Yellowrock series, but the first in the series that I've read. It's also decidedly not a romance. Hunter does a good job introducing all the key players, as well as providing adequate background, early in the story so I felt invested in the novel fairly quickly. 
Hunter also uses the first person narrative form to full advantage, and kept me right with Jane as she navigates her way through what turns out to be a very intriguing whodunit. I was stumped most of the way through the narrative, but I'm not sure if I'd have been quite as surprised if I'd read the previous two books in the series, Skinwalker and Blood Cross. The revelation was a somewhat disappointing, but I thoroughly enjoyed all the twists and turns the story took to get me there. Jane's relationship with her boyfriend also left me a little cold, but that's due to my familiarity with paranormal romance, rather than anything lacking in Hunter's storytelling. 
Mercy Blade is a well-constructed urban mystery that was fun to read. It's fast-paced and intelligently written, and Hunter is pleasantly stingy with her breadcrumbs throughout the novel. If you've already read the first two Jane Yellowrock novels in the series, I believe you'll enjoy this one just as much. As a new reader, I will definitely go back and pick up the first two as soon as I get the chance.
My Rating: 
Really enjoyed – strongly recommend (A-)