We interrupt Twimom's usual blogging activities to bring you a special guest post from blogger extraordinaire,
Mandi
 from
Smexy Books Romance Reviews
. She is here today to help me CELEBRATE my one year Blogiversary and upcoming birthday (on Sunday!). She is one of those special people I have met this first year of blogging, and I cannot thank her enough for her guidance, support and friendship. Her blog is the golden standard, and I am honored to count her as a friend.
Don't forget to enter my $40 Gift Card Giveaway…. Details and entry form
HERE
. And my Week #4 Author Giveaway – signed SET of all six Guardian Series books by Meljean Brook, which ends Friday February 25 at 11:00 PM EST. Details and entry are
HERE
. 
But enough from me… Take it away, Mandi!!
Celebrating Smexy Style
I love to celebrate – and one of my favorite things to do when a happy occasion arises, is to go out to dinner. Hello cocktails! Since I was young, I have grown accustomed to the way my father dines out. Get to the restaurant at least 30 minutes before your reservation so you have time to order a pre-dinner cocktail at the bar. Once seated, no one is allowed to open their menus until you have ordered another cocktail and it is sitting in front of you. Then a round of appetizers and a full perusal of the wine list must be done. As you can see, celebrations with my family last many, many hours. We always toast, and we always have wonderful conversation and many laughs. It really doesn't get any better. Sometimes we are celebrating important milestones, but many times we are just celebrating to celebrate.
Now being me aka "smexy", I love to daydream about how I would celebrate with my fictional boyfriends. Which boyfriend would be best for each part of the evening? Oh the choices I have!
Cocktail Hour – This honor goes to Bones (Jeaniene Frost). Bones is a very sexy, british vampire and I would love to share a martini with him. He would make me laugh and I bet he would let me suck the olives off of his toothpick.
Appetizer – The appetizer is quick, therefore, Ethan (Chloe Neill) would be great for a quick bite (he can bite me anywhere he wants). He is intense, serious, and I bet he loves crab puffs.
Salad course – Oh the salad – the raw, crunchy course – who else could eat my croutons than Terrible (Stacia Kane). Terrible seems like he might need a few vegetables and vitamins in his diet. I would even wipe the salad dressing out of his mutton chops.
Main Course – I've thought long and hard about whom I would spend the most time with at dinner. Someone good at conversation and chews with his mouth closed. I would love to eat dinner with Catullus Graves (Zoe Archer). Catullus is all gentlemen, and sexy as hell. He loves freckles and I would let him count my freckles all night.
Dessert – There is only one man I can think of that I would share dessert with – Mark St. Crow (Lilli Feisty). And for those that know of Mark St. Crow – we all know what dessert I would order – strawberry shortcake. (Mark does verra naughty deeds with strawberries).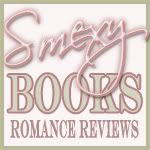 So there is my fantasy celebratory dinner. Now, who's hungry?
Many, many congratulations to Jen for a wonderful first year of blogging. She is such a joy to talk with and I love her insightful reviews. Congrats Jen and thank you so much for asking me to be part of it.