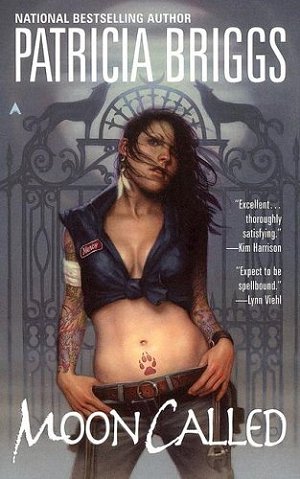 Moon Called
Release Date: January 31, 2006
Publisher: Ace
Mercy Thompson Series #1
ISBN: #978-0441013814
Genre: Urban Fantasy
Format(s): hardcover (reprint 2010), paperback (304 pgs), e-book
This book was purchased with their own money.
From the Goodreads:
     Werewolves can be dangerous if you get in their way, but they'll leave you alone if you are careful. They are very good at hiding their natures from the human population, but I'm not human. I know them when I meet them, and they know me, too. 
     Mercy Thompson's sexy next-door neighbor is a werewolf. 
     She's tinkering with a VW bus at her mechanic shop that happens to belong to a vampire. 
     But then, Mercy Thompson is not exactly normal herself … and her connection to the world of things that go bump in the night is about to get her into a whole lot of trouble.
What Gikany & Una are talking about:
     In the first book of the series, Moon Called, we are introduced to Mercedes Thompson the Volkswagen mechanic who lives in the Tri-Cities area of Washington.  The irony is not lost on Mercy.  She has an alpha werewolf for a neighbor, a fae for a mentor, and a vampire for a repeat client.  Weird for Mercy is truly relative.  Living close to a werewolf is somewhat comforting but mostly exasperating to Mercy who grew up amongst the pack of the foremost alpha werewolf in North America.  This gives her not only a unique outlook in life, but a piercing insight into pack dynamics and werewolf psychology.  This leaves Mercy well situated to offer assistance to a lone, lost and very recently turned werewolf.
     Mercy knows "Mac" could be trouble when he stumbles into her garage looking for work.  But she cannot turn her back on the kid, who obviously needs more than just a job.  By helping "Mac", Mercy finds herself getting neck deep into paranormal politics and conflicts, which she had avoided (so she thought) since leaving home.  When "Mac's" troubles spill over to include Mercy and her neighbor's pack, she finds herself running home to find help.  While there, she discovers answers to questions she didn't know she had.   After she returns to the Tri-Cities with a healing werewolf and an old-flame, Mercy realizes that "Mac's" troubles were just the beginning.
     Since this is our first book review, we are reluctant to divulge much more in fear of revealing spoilers.  We have read the series so many times; it would be far too easy for us to accidently give something away.  Trust us; this series is fantastic, gripping, and really fun to read.  In fact, it has kept us up all night because, "we HAD to know what happens next."  Mercy's sense of humor (and dare we say sarcastic wit), even amongst great strife, makes for a suspenseful and humorous read.  Please note, this novel and the entire series is available in hardback, paperback and ebook.  Between the two of us we have all three and duplicates.  And for those that enjoy graphic novels, there is a prequel already available with the rest of the series (being retold in this medium) coming soon.  Needless to say, we can't wait for the rest and already own and have enjoyed the prequel.
Their Rating: 
Personal favorite – a must read (A+)