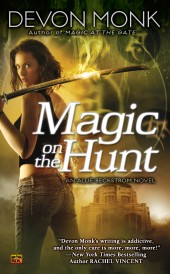 Magic on the Hunt
Release Date: April 5, 2011
Publisher: Roc
Allie Beckstrom Series #6 
ISBN: #978-0451463913
Genre: Urban Fantasy
Format(s): Paperback (368 pgs), e-book
I received a ARC copy of this book from the PUBLISHER for the purposes of an honest review.
---
From the author's website:
---
      There aren't many girls who can say they've gone into the realm of death and lived to tell the tale. But to restore her lover Zayvion's soul, Allison Beckstrom had to pay a bitter price–and things are about to get worse….
      It turns out the leader of the Authority, the council that decides what can–and can't–be done with magic, is being held hostage. But when the trail leads Allie and Zayvion to the secret prison where the Authority locks away magical criminals who are too dangerous to be held anywhere else, they find more than they bargained for. An undead magic user has possessed one of the prisoners, and he wants his freedom–and then some. Now Allie and Zayvion are the first line of defense against the chaos he's about to unleash on the city of Portland….
---
What Una is talking about:
---
      Sadly, I am writing this review on my own.  Poor Gikany is ONLY on book 2 and will not, hmmm, corrupt herself by skipping ahead to read this one.  So it is my pleasure to read and review this book for all of you (and Gikany) because she has already been sucked into this refreshing series and it's driving her nuts that I know what's happening….*grins evilly*
***Please note that if you haven't read the whole series, there may be spoilers in the following review.  You have been WARNED!
      After finishing book 5, Magic at the Gate, I was eagerly anticipating the arrival of this book.  Ms. Monk does not disappoint with this fascinating urban fantasy.  We pick up a few days after the previous book ends.  It seems that Zay and Allie have had a much deserved break and rest.  However, that break is short lived once Dane enters her home, knocks out Zay and shoots Allie.  He does this to force her father, whose soul still stubbornly resides in her body, to reveal where Sedra is being held by Jingo Jingo.
      Magic on the Hunt has an explosive beginning and a faster pace than the previous novels.  I was completely sucked in as the story unfolded, adding to the other ongoing plot lines that have been carried over.  There were several twists and turns I did not expect, and because of them, I was completely glued to the pages.  I found myself reading when waiting at a red light because I had to know what happened next.  Especially when considering that by book six, these major characters have become so real to me.  Ms. Monk is quite talented at making these characters three dimensional, with all the lovely quirks and personalities that keep you on your toes.
      In this novel, Allie continues to grow and find her place.  Caught between her own independent streak, her love of Zayvion Jones, caring for the Hounds, and finding her role in the Authority, Allie tries to figure it out on her own.  It is because of this, Allie is almost real to me, her constant inner struggle to do right even when it forces her to live with the tough choices she has made.  To watch her inner battle as she sees how the Authority protects, and how she deals with the hard choices that come with such a great responsibility.  Allie truly has carved out her own niche and is doing her best to make the most of it and find her path.
      However, as always, Ms. Monk is a great tease, for lack of better term.  I keep waiting to see if Allie is ever able to reclaim her "flame" of magic, if she will ever be rid of her father, will Cody ever truly be healed, will Shamus and Terric ever be whole?  These questions continue to burn in me along with a few others that come out of the ending of this book.  But, I respect the fact that maybe, just like real life, these questions do not have answers.  Sometimes experiences are just experiences that help you grow and do not lead to a happy or restorative ending.  I am starting to realize that, like life, once a sacrifice is made, you learn to live with that loss.  In that, I am truly humbled and amazed by this series.  Yet, with everything that happened in this book, so much remains to be answered even with that which was resolved.  I look forward to continuing to read this gritty, fresh and tantalizing series.
---
Una's Rating: 
---
Loved it – enthusiastically recommend (A)