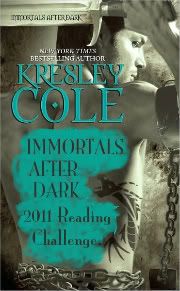 Hello friends and welcome to the this month's
Immortals After Dark 2011 Reading Challenge Discussion
. The idea is for this to be an "open thread" to discuss the third IAD story (second book):
I'll list a few questions to kick it off, then please follow with your own points, additional questions and general comments. PLEASE keep the discussion the this book or the prior two stories and NO future stories. 
ALSO – IF YOU HAVE A REVIEW for No Rest for the Wicked, please include a link below in the comment section! I will be posting my review either later today or over the weekend.
Lastly… Note to those that have not read No Rest for the Wicked: Spoilers *may* be listed below, so beware!
1) Sebastian and Kaderin… what do you think? Did you like how they met? Their "courtship?" Treatment of one another? Did they have an emotional impact on you?
2) How did you like the action in this book? What did you think of the Hie? 
3) What was/were your favorite and/or least favorite parts?  What open-ended question or character are you most looking forward to reading about coming up in the series?
4) Anyone else wonder about the mythology… The mothers of the Valkyrie were warrior women that died in battle, brought back to life by gods, then have a daughter(s) who are immortal. What about the moms? What happened to them? 
5) Another "general" thought I had when reading this book… Vampire's and their Brides: in the first story, Myst claimed that she had been the Bride to several vampires before she killed them. And in this book, Nikolai jumped to the conclusion that Sebastian was going to claim Myst as his Bride… Does it "bother" anyone else that a vampire can "fall" for a Bride that isn't his destined mate?
Okay folks… discuss away… I'll be back to answer the questions later!