Dear Readers… Today I'd like you to help me welcome Melissa from Were Vamps Romance Reviews and Book Club blog. Melissa is new to the blogging world and I've asked her to come by and tell us a little more about herself and her site. Please say hello to Melissa!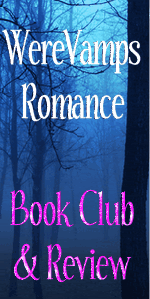 Well, first I would like to thank Twimom for having me. It is such an honor to be a blog guest on such a well-loved site. For those who never heard of me my name is Melissa. I am a stay at home mother of two beautiful girls, and wife to one awesome husband who spoils me. I am addict to Starbucks, books and my nook e-reader. I like to read for probably the same reason anyone else does. I like to escape from reality. Who would not love the substitute reality that these books can send you? Hot, tortured men, and in need of a good woman? I am there!
About June of last year, I had a few friends start complaining they could not find a book they liked. I started suggesting books. They liked the books so much they started to hound me for more. Soon it was to the point I had to post a book list on a Facebook note. Since I was once just like my friends, I thought about running a blog. Share my taste of books with friend and the World Wide Web. Since every blog is different in their personal taste of books, I started my own.
I run the new blog Were Vamps Romance. The blog consist of book reviews and a book club. As you probably guessed for the name, it is a Paranormal Romance based genre. I do wonder time to time to other genres. I tend to wonder over mostly to Urban Fantasy, Fantasy Romance, Futuristic Romance, and in certain moods Erotica. Authors I enjoy and in not particular order are Christine Feehan, Sherrilyn Kenyon, J. R. Ward / Jessica Bird, Dara Joy, Lynsay Sands, Emma Holly, And about a hundred more.
When writing out reviews I tend to try to avoid all spoilers. This makes my review a little shorter and more basic then other blogs. It is great for people on the go, who may just want to find the pro and cons quickly. I think this is what makes my blog different from others. For my blog, I have a goal of having a book review post every day of the year. Starting with new releases and older release when I run low.
For my blog being as new as it is I think, I am doing a good job. To be honest I did not think it would be as much work as it is. It is a work in progress. In the future, I would like to have authors as guest postings and interviews. I really would like to meet new authors and spread the love of reading. Reading is such a great outlet, learning and mind tool. These days it seems like less and less people read. It is such a shame, in my opinion.
Well in closing this guest post, I would like to thank all readers for their time. I hope you come by for a visit. Thank you so much, again, to Twimom for allowing me the honor to be your guest blogger for the day. You are such a sweetheart.