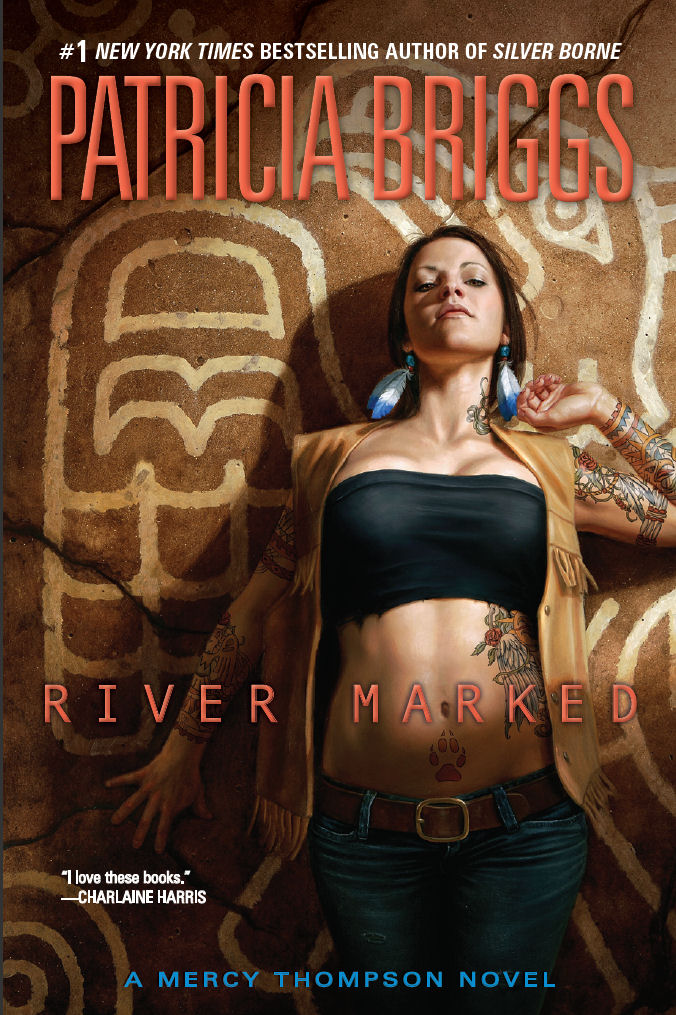 River Marked
Author: Patricia Briggs
Release Date: March 1, 2011
Publisher: Ace Books
Mercy Thompson Series #6
ISBN: #978-0441019731
Genre: Urban Fantasy
Format(s): Hardcover (336 pgs), e-book
I received a copy of this book from the PUBLISHER for the purposes of an honest review.
From the book dust jacket:
     Welcome to Patricia Brigg's world, a place where "witches, vampires, werewolves, and shapeshifters live beside ordinary people" (Booklist).  It takes a very unusual woman to call it home – and there's no one quite like Mercy.
     Coyote Shifter Mercy Thompson knows that life with her mate, the Alpha werewolf Adam, will never be boring, but even their wedding doesn't go as planned.  Nevertheless, a ten-day honeymoon camping on the banks of the Columbia River, alone, just the two of them, should make up for it.  But the trip – and the pimped-out trailer they're using – is courtesy of the fae.  And nothing from the fae comes without strings attached….
     Being a different breed of shapeshifter – a walker – Mercy can see ghosts, but the spirit of her long-gone father has never visited her.  Until now.  An evil is stirring in the depths of the Columbia River – and innocent people are dying.  As other walkers make their presence known to Mercy, she must reconnect with her heritage to exorcise the world of the legend known as the river devil…
What Gikany & Una are talking about:
     The wait is over, at least for us, River Marked is here!  Would it be wrong to say that the rest of you poor people had to wait until the March 1?  Oh, wait, today is the first of March…well, what are you waiting for? GO GET IT!  This highly anticipated sixth novel in the Mercy Thompson series was well worth waiting for.
     **Please note, if you haven't read the series, this review will spoil some plot points in the earlier books so please; Go buy and read the first five books (or check them out from your local library) and then come back, read this review and then go get this book.  We are happy to help you out!
     The first part of the novel is classic Mercy Thompson.  It has all of the elements of humor and wit that we have come to associate with Patricia Briggs' writing.  We'll just come out and say it: Mercy and Adam get married.  Mercy's wedding is all we could have asked for.  For those who have been waiting with baited breath…nah, we can't do it.  It needs to be savored and a review cannot do it justice to the absolute glory of it.  Their honey moon, however, is not the respite they envisioned.  Mercy is once again plunged into an impossible situation requiring decisions no person would willingly make.  Sadly, she is the only one who can resolve this conflict.
     In this novel, Briggs focuses, much to our delight, less on the imported European preternatural creatures and more on native creatures that they displaced upon their arrival.  On their honeymoon, Mercy and Adam encounter a river monster, various gods and other walkers.  To defeat the monster, Mercy has to embrace her past – for the things that have made her an outsider her whole life are the key to the world's survival.
     We loved the first part of this book and the homecoming at the very end.  Our favorite parts of this series have always been Mercy's interactions with the extended family she has created for herself.  While we understand her honeymoon could not (and should not) feature them, we still missed it.  The witty banter between the new characters introduced in this novel during the honeymoon, while enjoyable, still lacked the affection that we've become accustomed to in the previous novels.  Briggs does a good job of exploring Mercy's origins, even if we didn't understand it all.  It felt over simplified and almost academic; lacking the nuances that would have conveyed the mysterious complexity of the mythology.  That being said, this adventure adds to the richness of Mercy's character, and to the world the series exists in.  The more we learn about Mercy, the more we come to realize that she has unwittingly become a bridge between the self-segregating preternatural communities.
     All in all, we find this a welcome addition to the Mercy Thompson series!  We look forward to seeing how the revelations from this novel are incorporated into the future books.  Now to fight over who gets to reread it first….  Wait, Twimom, can we keep this book?  We don't have to send it back, do we?  Can we keep it, can we keep it?  Pretty please….
Their Rating:  
Loved it – enthusiastically recommend (A)