**NOTE: this except comes from an uncorrected ARC copy of the book**
"We headed out.  My phone rang.  Zay.  Again.
Seriously, couldn't the man catch a hint?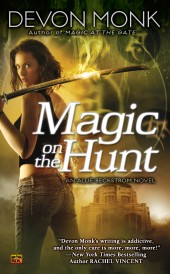 I answered.  "Beckstrom."
"Where's everyone off to?"
I scanned the street.  Zay was standing on the corner across the street, Shamus behind him, leaning against the building, smoking.
"That so?  Looks like you've got a hunt on your hands."
He started across the street.  The light hadn't changed, but somehow traffic seemed to move in rhythm to his stride, a perfect path opening up as he moved across the street toward me, not once taking his eyes off me.  Man walked like a goddamned god.
"Who are they hunting?  What are they hunting?  What are you up to, Allison, my love?"
He was across three lanes, one more before he was in front of me.  That is, if a bus didn't hit him.
"None of your damn business," I said sweetly into the phone.
And then he was there, in my space, so close, I could smell the pine and anger rolling off him.  He was power, magic, sex, raw, brute force.  A thunderstorm embodied. 
I gave him a disinterested look.
The corner of his lip quirked up.
"How about I say please?" he said into his phone. Even though there was less than six inches separating us.
"Hound business is Hound business," I replied.  
"Don't make me drag it out of Davy."
"Fuck you," Davy laughed. "I'm not your girlfriend."
Zay put his phone down.  Thumbed it off.  "Who are you hunting girlfriend?" he asked.
I saw no reason to keep it a secret.  Well, besides the fact that he could Close me or Davy with the flick of his fingers.  "Dane.  For shooting me."
He searched my eyes.  Must have caught the hint that I didn't give a damn what he thought about that.
"Shame and I will go with you."
"I don't think that's a good idea."
"More feet on the ground.  That's what you said, right?"  He turned toward Davy.  "How are we doing this?"
He turned back to me.  "Well, boss?"
"Sigh spells.  Light.  We're just looking for his signature.  If he's found, I'm to be contacted.  No engaging."
"And after you are contacted?"
Oh, I did not want to tell him that I had planned to follow the rules and call him and Victor.  "I'll take care of it."
Anger flashed through is eyes, brown gone much, much too gold.
"We got it covered, Jones," I said airily.  "Don't really need more feet on the ground."
He reached out, grabbed my arm.  Davy pushed off from the car he'd been leaning on.
Zay pulled me in and kissed me.
Oh.  My.  Sweet.  Heavens.  A rush of heat enveloped me, and I tasted his anger – and his amusement.  He was hot, turned on.  He liked it when I took charge.
Before I could do more than register his need, before I could exhale the pressure and heat his touch, his kiss, planted in me, he pulled back.
"So where do you want me?" he asked.
Memories of his naked body, lowering over the top of me, flashed through my mind.
No.  No way.  I would not be distracted by him.
"Fine.  If I can't get rid of you, then take the south-west side of town.  Sight.  Mile radius.  Don't trip the grid.  Think you can handle that?"
"Well, I'm not Hound," he said, "but I'll see what I can do."
"If you find him- If you find anything, call me."
He gave me a grin.  "I don't think you're paying me to call you."
"If you're on this hunt, you're on the payroll."
He shook his head.  I started walking towards Davy's car.
"She buying you a beer?" he asked Davy as we passed by.
"Yup.  About a thousand of them."