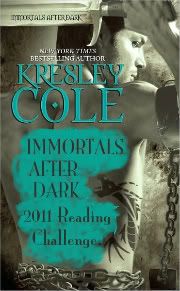 Hello friends and welcome to the this month's Immortals After Dark 2011 Reading Challenge Discussion. The idea is for this to be an "open thread" to discuss the fourth IAD story (third book):
Wicked Deeds on a Winter's Night
About the book:
Her breathless kiss haunts him.
Bowen MacRieve of the Lykae clan was nearly destroyed when he lost the one woman meant for him. The ruthless warrior grew even colder, never taking another to his bed—until a smoldering encounter with his enemy, Mariketa the Awaited, reawakens his darkest desires. When sinister forces unite against her, the Highlander finds himself using all his strength and skill to keep her alive.
His slow, hot touch is irresistible.
Temporarily stripped of her powers, Mari is forced to take refuge with her sworn adversary. It's rumored that no one can tempt Bowen's hardened heart, but soon passion burns between them. Though a future together is impossible, she fears he has no intention of letting her go.
No deed is too wicked for her seduction.
If they defeat the evil that surrounds them, can Mari deny Bowen when he demands her body and soul—or will she risk everything for her fierce protector?
So… Who knew that starting this book Monday night, on a week when my husband is out of town, and I had 3 meetings (for the 2 days I am in my office) would result in me NOT finishing the book by Thursday night so I could write and post my review?! *head desk* I am sorry folks…
IF YOU HAVE A REVIEW for Wicked Deeds on a Winter's Night, please include a link below in the comment section. I will be posting my review soon.
I am about halfway through the book and I am really enjoying it so far.  I would like for those that have finished the book to please discuss the story.  What did you like? Dislike? Which of the new characters is your favorite? Where there new pieces of the "mythology" that you liked/disliked?
Okay folks… discuss away… I'll be back soon with my own discussion and review!  Thanks and Happy Reading!