Demons Are a Girl's Best Friend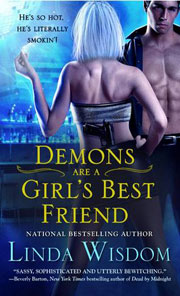 Author:
Linda Wisdom
Release Date: April 1, 2011
Publisher: Sourcebooks Casablanca
ISBN: #978-1402254390
Genre: Paranormal Romance
Format(s): Paperback (384 pgs), ebook
I received a copy of this book from the PUBLISHER for the purposes of an honest review.
From the author's website:
A bewitching woman on a mission…
Feisty witch Maggie enjoys her work as a paranormal law enforcement officer-that is, until she's assigned to protect a teenager with major attitude and plenty of Mayan enemies. Maggie's never going to survive this assignment without the help of a half-fire demon who makes her smolder… 
A hotter-than-sin hero with an agenda…
Declan is proprietor of an underground club and busy demon portal. No way he'll allow his demon race to be blamed for the malicious acts of some crazy evil Mayans. But he's already got his hands full when the sexy witch offers him a challenge he can't refuse…
What B is talking about:
Maggie O'Malley is a witch who's used to being in charge. She's over 700-years-old. She leads a Special Ops team for the Hellion Guard. She's battle tested and as tough as they come. Got a nasty creature in need of dispatching? Maggie's your witch. She's seen it all. Been there, done that, and bring it on. Until she's ordered to be the guardian of a teenaged girl and meets a sexy half-demon who's more than he seems.
Declan has worked hard to become boss at Damnation Alley. As a half-breed, he is unlike the rest of his kind in more ways than one. Still, he thinks he's got everything under control until a witch with attitude to spare turns everything upside down. And of course, she would be the one he is destined for.
This was a fun book to read. Maggie is tough, stubborn, powerful, and quite prickly. She doesn't back down and rarely apologizes. Although she's closer to 1,000 years old, she often acts like a young woman in her twenties. And she has no room in her life for a long-term relationship. Nor does she have the temperament to tolerate one. It all makes for an interesting character. 
Once Declan enters her life, that all changes. Wisdom doesn't waste a lot of time making Maggie fight her feelings for him. Rather, Maggie recognizes what she could have with him and makes the choice to wrap herself up in it, without a grand epiphany or lot of self-doubt. Aside from a "Mine" moment or two, Declan does much the same.
Demons Are a Girl's Best Friend sustains a humorous tone throughout. The other members of Maggie's team provide consistent doses of comic relief. Befanged and furry, they may stumble and argue, but the sense of camaraderie and affection between themselves and their leader is apparent. Maggie's frustration and bewilderment when faced with taking care of a teenager is funny all by itself. 
Maggie and Declan's romance is sweet and the sex is fairly hot. They compliment each other and both know what they want as lovers. Since there was no huge conflict for them to overcome in order to be with one another, it's easy to just enjoy their encounters as they are. The constant teasing and sparring they do as a means of foreplay becomes increasingly entertaining as they become more attached, too. 
Wisdom has crafted an enjoyable read in Demons Are a Girl's Best Friend. Even though the humor borders on slapstick sometimes and the novel has a few predictable moments, it's still a lot of fun. Maybe because, in part at least, it doesn't try to be too serious. It's a good, sexy novel, perfect for unwinding with a decent laugh. 
B's Rating: 
Liked it a lot – recommend (B+)