Wicked Deeds on a Winter's Night
Release Date: October 2007
Publisher: Pocket Star
Immortals After Dark #4
ISBN: #978-1416547037
Genre: Paranormal Romance
Format(s): paperback (384 pgs), e-book
From the author's website:
Her breathless kiss haunts him.
Bowen MacRieve of the Lykae clan was nearly destroyed when he lost the one woman meant for him. The ruthless warrior grew even colder, never taking another to his bed—until a smoldering encounter with his enemy, Mariketa the Awaited, reawakens his darkest desires. When sinister forces unite against her, the Highlander finds himself using all his strength and skill to keep her alive.
His slow, hot touch is irresistible.
Temporarily stripped of her powers, Mari is forced to take refuge with her sworn adversary. It's rumored that no one can tempt Bowen's hardened heart, but soon passion burns between them. Though a future together is impossible, she fears he has no intention of letting her go.
No deed is too wicked for her seduction.
If they defeat the evil that surrounds them, can Mari deny Bowen when he demands her body and soul—or will she risk everything for her fierce protector?
What I'm talking about:
Hmmm… I have to say that the book summary on Kresley Cole's website (above) isn't what I would have said to summarize and describe the book.  Anyhow…
Wicked Deeds opens during the Hie competition, the focus event of the the third story, No Rest for the Wicked (review HERE) Lykae Bowen MacRieve (Bowe) was the "runner up" of the Talisman's Hie, a "deadly, immortal version of The Amazing Race." The story backtracks a bit in the timeline to tell the reader about Bowe's run-in with Mariketa the Awaited (Mari), the witch that cursed him with mortality during No Rest for the Wicked. The story quickly moves forward to events that occur immediately after the end of the Hie competition. (NOTE: I strongly recommend reading No Rest for the Wicked prior to reading Wicked Deeds.)
Mari is a fiesty girl and it is enjoyable to watch her mature in this story. At the beginning of the book, she is 23-years-old and still mortal – that's right… she entered the deadly competition and isn't even immortal! Mari is predicted to be the most powerful witch in centuries, but it seems she cannot get a spell straight without blowing up something.  She hides her true self, afraid she will be claimed by an immortal as his mate and forced to give up her magic. At times she is childish and acts out in haste. But she is open to the counsel of others, including Bowe, and fairly quickly calms down, displaying a maturity beyond her years.
Bowe has been around for a very long time. He entered the Hie in hopes of winning the prize of a magic key that allows the user to travel back in time. He lost his mate 180 years ago, and has been obsessed with bringing her back ever since. (Lykae's only get one mate in their immortal existence.) He is rough around the edges and completely ALPHA!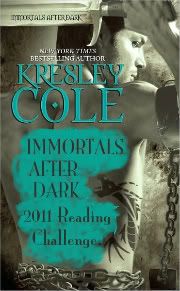 Mari and Bowe are dynamite together. They are explosive (literally) and sexy. But their relationship is so much more than their physical actions and play. They are refreshingly open with one another, and even when they do keep secrets, the secrets don't hijack the progress of the developing love. When mistakes are made (and Bowe makes a HUGE one when he calls Mari the WRONG NAME!), the situation is quickly addressed and the story moves forward.
There were a couple new world-building terms that were not mentioned in earlier stories. I have to admit, I was a bit put off by the use of the Lykae's Instinct. It's this really important "inner-voice" all Lykae have, yet it was never mentioned in A Hunger Like No Other, which focused on the Lykae king! I know it's a small thing – but it bugged me!
I have to mention a fantastic supporting character, Rydstrom. He's a demon with an amicable history with Bowe. He is gentle and kind – caring for Mari and the other members of their group. But he also imparts great wisdom to Bowe in a supportive and logical way – making Bowe assess his true situation and feelings.  LOVE HIM! and can't wait to read his book down the road.
Overall another great story in the Immortals After Dark series, and my favorite so far. Ms. Cole keeps the story moving along with her smart writing, exciting action and sharp wit. Mari's friend Carrow had me laughing out loud at times. I adore that Ms. Cole doesn't draw out misgivings and misunderstandings between characters, but rather addresses any issues straight on so the story can move forward.   The conclusion was extremely satisfying and even had a few twists I wasn't expecting.  I cannot wait to read the next story in a month!
My Rating: 
Loved it – enthusiastically recommend (A)