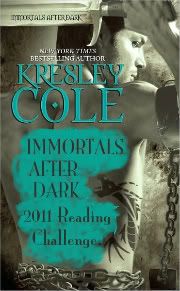 Hello friends and welcome to this month's Immortals After Dark 2011 Reading Challenge Discussion. The idea is for this to be an "open thread" to discuss the fifth IAD story (fourth book):
Dark Needs at Night's Edge
Néomi Laress, a famous ballerina in the early 1900s, became a phantom the night she was murdered. Imbued with powers, but invisible to the living, she haunts her beloved home, scaring away any trespassers–until she encounters a ruthless immortal even more terrifying than Néomi herself.
To prevent him from harming others, Conrad Wroth's brothers imprison him in an abandoned manor. There only Conrad can see the dancer with wild raven hair–who seems determined to drive him further into madness. The exquisite creature inflames him with desire, leaving his body racked with lust and his soul torn as he finds himself coveting her for his own.
Yet even if Conrad can win Néomi and claim her completely, evil still surrounds her. Once he returns to the brutality of his past to protect her, will he succumb to the dark needs seething inside him?
I'll list a few questions to kick it off, then please follow with your own points, additional questions and general comments. PLEASE keep the discussion to this book or the prior four stories and NO future stories. 
ALSO – 
IF YOU HAVE A REVIEW
 for Dark Needs at Night's Edge, please include a link below in the comment section!

 

My review is under a separate post.
Lastly… Note to those that have not read Dark Needs at Night's Edge: Spoilers *may* be listed below, so beware!
1) What was your favorite part of this book? Least favorite?
2) Did you enjoy the courtship between Conrad and Neomi more/less/indifferent to those in the earlier books? Why?
3) Neomi was the first "mortal human" heroine. Were you satisfied with her "transformations" into the Lore world?
4) I felt this book had quite a bit less action than earlier stories – what is your opinion?
5) What unanswered plot line are you most looking forward to reading about in a future book?
Thanks and Happy Reading!