Dark Needs At Night's Edge
Author: Kresley Cole 
Release Date: April 2008                     
Publisher: Pocket Star
Immortals After Dark #5
ISBN: # 978-1612580234
Genre: paranormal romance
Format(s): paperback (384 pgs), e-book
I purchased a copy of this book for my own reading pleasure.
From the author's website:
Néomi Laress, a famous ballerina in the early 1900s, became a phantom the night she was murdered. Imbued with powers, but invisible to the living, she haunts her beloved home, scaring away any trespassers–until she encounters a ruthless immortal even more terrifying than Néomi herself.
To prevent him from harming others, Conrad Wroth's brothers imprison him in an abandoned manor. There only Conrad can see the dancer with wild raven hair–who seems determined to drive him further into madness. The exquisite creature inflames him with desire, leaving his body racked with lust and his soul torn as he finds himself coveting her for his own.
Yet even if Conrad can win Néomi and claim her completely, evil still surrounds her. Once he returns to the brutality of his past to protect her, will he succumb to the dark needs seething inside him?
What I'm talking about:
The story opens with the history of Neomi's brutal murder by her ex-fiancé while she was in the prime of her life. Next, forward ahead eighty years and Neomi is stuck as a ghost in her beautiful home. This is the same home that the vampire brothers Murdoch, Sebastian (from No Rest for the Wicked) and Nikolai (from "The Warlord Wants Forever") have purchased with the intent of using it to hold their blood-hungry brother, Conrad while they attempt to rescue him.  Unlike his brothers, Conrad has lived the past 300 years of his vampiric life feeding off "live blood" (direct from the source) causing madness and he should be executed on sight.  Yet the Wroth Brothers believe that they can save Conrad and stage an intervention of sorts – holding him prisoner and forcing him to change his "evil" ways.
As Conrad slowly emerges from his madness, he begins to realize that he isn't alone in his room.  Neomi sits with Conrad day after day and watches the Wroth brothers undetected, learning about the Lore (paranormal world). Finally, Conrad sees and begins to communicate with Neomi – the first and only living being to do so. Soon, the two are left alone for several days which allow them to forge a friendship and develop strong feelings for each other.  Now, if only they could actually touch one another and be together as a real couple…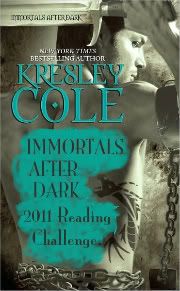 Ms. Cole has another winner with this the 5th story in her wonderful Immortals After Dark series. Although this story takes place shortly after the previous book, Wicked Deeds on a Winter's Night, it is pretty much a stand-alone feature that I feel can be enjoyed without reading the earlier books. Unlike the previous books, this one primarily focuses on the two central characters and the development of their relationship. There isn't a whole lot of action, and the secondary characters really take a back seat. There also seems to be some plot development that will be carried over into future books.
One thing that is remarkable about this book is how Ms. Cole portrays the madness of Conrad through her writing style.  In the beginning, Conrad's POV sections are written in present tense with clipped segments and abrupt language while he is still under the influence of the blood lust. She then makes an amazing transition to Conrad's lucid train of thinking with this simple section "Feels… feels… felt." Powerful writing that sets the tone for the book. I felt like I was experiencing Conrad's frustration and confusion.
The fact that Neomi is a ghost limits the corporeal contact that can take place between the primary couple, yet Ms. Cole manages to create a hot and heavy romance. The lack of physical intimacy in the beginning makes room for focus on the "getting to know one another" phase. This allows the reader to really fall for the couple and become emotionally involved.  So when Neomi finally gets her chance at reclaiming her human body, it is all the more exciting.
Unfortunately, the story started to drag a little during the last quarter of the book. They went from an open and honest relationship to keeping secrets in the name of protecting the other. I also wasn't impressed with Neomi's continued transformation from ghost to human to…  But even with the weakness of the final sections of the book, I feel that this story is still one to read, even if you haven't read the earlier books. I thoroughly enjoyed the transformation of Conrad and the love story with Neomi.
My Rating:
Really enjoyed – strongly recommend (A-)