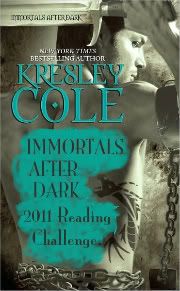 Hello friends and welcome to this month's Immortals After Dark 2011 Reading Challenge Discussion. The idea is for this to be an "open thread" to discuss the sixth IAD story (fifth book):
A ruthless demon mercenary. A lovely young halfling.  In the dark, there's no escaping desire.
A seductive beauty he can never have, yet can't resist…
Cade of the rage demons will stop at nothing to atone for the one wrong that will haunt him forever. But once he secures the key to his redemption, the halfling Holly Ashwin, Cade finds that the woman he thought he could use for his own ends and then forget haunts him as much as his past.
A tormented warrior she should fear, but can't deny…
Raised as a human, Holly Ashwin never knew that some frightening legends are real until she encounters a brutal demon who inexplicably guards her like a treasure. Thrust into a sensual new world of myth and power, with him as her protector, she begins to crave the demon's wicked touch.
Surrender to dark desires…
Yet just when he earns Holly's trust, will Cade be forced to betray the only woman who can sate his wildest needs—and claim his heart?
Discussion:
I'll list a few questions to kick it off, then please follow with your own points, additional questions and general comments. PLEASE keep the discussion to this book or the prior five stories and NO future stories. 
ALSO – 
IF YOU HAVE A REVIEW
 for Dark Desires After Dusk, please include a link below in the comment section!  My review is under a separate post HERE. 
Lastly… Note to those that have not read Dark Desires After Dusk: Spoilers *may* be listed below, so beware!
1) What was your favorite part of this book? Least favorite?
2) Did you enjoy the courtship between Cade and Holly more/less/indifferent to those in the earlier books? Why?
3) We see lots of stories where the lead character is forced to choose between love and obligation, many times this leads one character to lie to the other. Sometimes it works and others times it is annoying… what is your opinion for this book?
4) This one was FULL of action, with a bit of violence. Did the blood and guts work for you? Do you feel there should have been more, less or indifferent?
5) What unanswered plot line are you most looking forward to reading about in a future book?
Thanks and Happy Reading!