Cover Me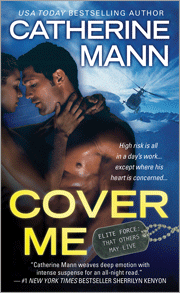 Author:
Catherine Mann
Release Date: July 5, 2011
Publisher: Sourcebooks
Elite Forces Book #1
Genre: Military/Suspense Romance
Format(s): Paperback (344 pgs), e-book
We received a copy of this book from the PUBLISHER for the purposes of an honest review.
From the author's website:
It should have been a simple mission… Pararescueman Wade Rocha parachutes from the back of a helicopter into a blizzard to save a climber stranded on an Aleutian Island, but Sunny Foster insists she can take care of herself just fine…
But when it comes to passion, nothing is ever simple… With the snowstorm kicking into overdrive, Sunny and Wade hunker down in a cave and barely resist the urge to keep each other warm… until they discover the frozen remains of a horrific crime…
Unable to trust the shady local police, Sunny and Wade investigate, while their irresistible passion for each other gets them more and more dangerously entangled…
What Gikany & Una are talking about:
Cover Me is the debut novel in the new Elite Forces series.  For a first novel in a series, it was pretty good.  The world-building, what little there is in a military/suspense romance, was easily crafted into the story.  The novel begins with our hero, Wade, who is a somewhat stereotypical military persona; dedicated to saving others, tough, stubborn, independent….you get the picture.  Even though he does have a soft heart, it is what drives his need to save others, even against their will.  Enter our heroine, the fiercely private and independent (did I mention stubborn) Sunny.  Now, Gikany and Una both thought, how on earth would the author have these two come together without sacrificing the initial characterization.  She didn't.  That is what makes Cover Me a fun and adventurous read.
First, Una must state, that this may have been her first military/suspense romance novel.  As we have said before, Gikany and Una do not tend to read much contemporary romance (which we consider military/suspense to be a part of).  Most of the military/suspense we read have a paranormal or fantasy twist to them.  So, at least Una was surprised at how much she enjoyed this novel, more so than she expected.  We really enjoyed the fact that Sunny is a capable and independent female who doesn't need her military man to constantly save her.  She does just fine on her own, thank you.   Gikany and I feel that Sunny was a wonderful character simply because she stayed true to herself and yet these two were still able to have their "happily-ever after."  Even though their relationship starts off quite physical and moves really fast, the satisfying part of the ending is that it isn't permanent "happily-ever after," but "let's see how it goes."  Which gave it a more realistic feel, and as Gikany says, "If you have read the Stepsister Scheme, you know that HEAs don't truly exist.
The plot and twists of the suspense portion of the storytelling flowed well and had a few surprise twists.  However, we didn't feel the transitions to our bad guy were very smooth.  It felt a bit jumpy and we found him, which is good, to be really annoying, insane, and truly evil.  (Gikany does say, "I did like his wife…point for him").  We really found the addition of his wife to be very refreshing and she is a great character, even though she is a minor character.  The overall story was well balanced between the romance and the suspense, which made it quite entertaining.  
This series seems to revolve around the aspect that this group of pararescuemen are ill-fated for having long-term and fulfilling relationships.  I enjoyed the added obstacle of the personalities between Sunny and Wade.  (However, Una found our hero and heroine's names a little off-putting).  Reading the except for the next book, Hot Zone, due out later this year, I wonder how the characters will present themselves in the next installment.  We did overall enjoy Cover Me and look forward to reading Hot Zone when it comes out.
Their Rating: 
Liked it a lot – recommend (B+)