Dark Desires After Dusk
Release Date: May 20, 2008
Publisher: Pocket Publishing
Immortals After Dark #6
ISBN: #978-1416576754
Genre: Paranormal Romance
Format(s): paperback (384 pages), e-book
I purchased a copy of this book for my own reading pleasure!
From the author's website:
A ruthless demon mercenary. A lovely young halfling.  In the dark, there's no escaping desire.
A seductive beauty he can never have, yet can't resist…
Cade of the rage demons will stop at nothing to atone for the one wrong that will haunt him forever. But once he secures the key to his redemption, the halfling Holly Ashwin, Cade finds that the woman he thought he could use for his own ends and then forget haunts him as much as his past.
A tormented warrior she should fear, but can't deny…
Raised as a human, Holly Ashwin never knew that some frightening legends are real until she encounters a brutal demon who inexplicably guards her like a treasure. Thrust into a sensual new world of myth and power, with him as her protector, she begins to crave the demon's wicked touch.
Surrender to dark desires…
Yet just when he earns Holly's trust, will Cade be forced to betray the only woman who can sate his wildest needs—and claim his heart?
What I'm talking about:
OH… this is my favorite IAD book so far! We've seen demon prince, Cadeon (Cade) admire and long for his one true mate, Holly, from afar in previous stories. Knowing that he could never be with her, yet remaining loyal to her was romantic and a bit heartbreaking, and it helped shape Cadeon's Heroic Persona.  Also adding to this is the fact that Cade is weighed down by a massive guilt complex, believing he is responsible for losing his brother Rydstrom's, kingdom to an evil sorcerer (Omort). So when Cade is told that he can help win back the kingdom's crown for his brother by finding and turning over the female "vessel" to said evil sorcerer's brother (Groot), Cade is ready to hunt for her.  A Vessel is a female from Lore (the so call "mythological" creatures), who will give birth to the ultimate good or bad guy during the upcoming Accession (read "World War" for the Lore).  So what a surprise to both Cade and Holly when they find out that sweet human Holly is actually part Valkyrie and the Vessel.
Right from the start this book is screaming with action and amazing sexual tension.  Maybe it's because Cade's desire for his Holly has been mentioned in earlier stories, but I felt the spark between this pair right from the get go. I loved how the book opened with Holly transforming into a Valkyrie and that she is forced to jump into a world she knew nothing about.  Holly maintains a wonderful balance of her old human self and new Lore female – clinging to her fears and O/C tendencies, while slowly allowing her Valkyrie nature to take root and develop. Ms. Kole does a marvelous job with Holly's character – giving her time to freak out, accept the changes, then slowly shed the past, realizing that her Valkyrie self was actually there all along.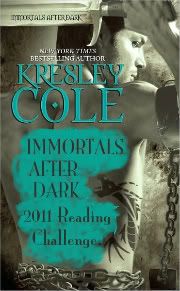 The pair is on the run from other Lore factions that want to impregnate Holly (the Vessel) for themselves. Cade misleads Holly into believing she could reverse her transformation so that he can take her to Groot.  While Cade protects Holly because she is a commodity, he knows in his soul that it's more because she is his mate.  As the two continue their journey to Groot, they begin to fall in love. But it's not a smooth road – especially since Cade has been lying to Holly.  While I'm usually not a fan of the "I'll hide the truth and use you, but then I fall in love and oops, I'm an ass" storyline, it really works in Dark Desires After Dusk.  The tension doesn't feel forced or insurmountable.  Both characters have an underlying honesty and goodness that shines through and creates  a wonderful Hero and Heroine combination.
While this story could be read stand alone, I feel that there is more emotional impact from reading the series as a whole. Ms. Cole carefully plants seeds in each book that blossom as time progresses. I am now understanding why everyone has been recommending the IAD Series to me for so long.  The series is exciting, sexy, and fun…and Dark Desires After Dusk is a solid A in my book!
My Rating: 
Loved it – enthusiastically recommend (A)
And be sure to stop by later and join in this month's IAD Reading Challenge Discussion!