Dead Iron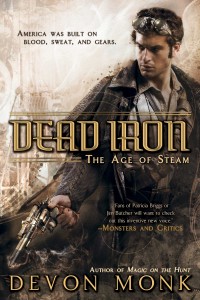 Author:
Devon Monk
Release Date: July 5, 2011
Publisher: ROC Trade
Age of Steam Series #1
Format(s): Paperback (352 pgs), ebook
I received a copy of this book from the PUBLISHER for the purposes of an honest review.
From the author's website:
In steam age America, men, monsters, machines, and magic battle to claim the same scrap of earth and sky. In this chaos, one man must fight to hold on to what is left of his humanity…
Although the devisers have civilized the east with their contraptions, civilization hasn't tamed the frontier that bounty hunter Cedar Hunt rides. Cursed by lycanthropy and carrying the guilt of his brother's death, he's a hard man for hire. But when a trio of miners offers him the possibility that his brother may yet survive, Cedar isn't going to haggle for payment. All he has to do for them is find the Holder: a powerful device created by mad devisers from the realm of the Strange.
The Holder is in the hands of Shard LeFel, a dandified railroad tycoon who's come to Hallelujah, Oregon, promising a civilized tomorrow. But what Cedar cannot know is that Lefel is an ancient Strange banished to walk this land for centuries. Now nearing the end of his sentence, Lefel is desperately searching for a way to fend off his own mortality—and the Holder may be the key.
In a land shaped by magic, steam, and iron, where the only thing a man can count on is his guns, gears, and grit, Cedar will have to depend on all three if he's going to save his brother and reclaim his soul once and for all…
What B is talking about:
Cedar Hunt is a bounty hunter by trade, and lonely by choice. He's run to the wilds of the frontier to escape his past, but that won't help him be free of the curse he carries within himself. When evil, in the guise of creatures call the Strange, threatens the town of Hallelujah, he joins in the fight against it, and learns that he's not as alone as he thinks.
Although I have a weakness for Steampunk, in general, I thoroughly enjoyed this book in its own right. It took awhile to get into the story, most likely due to the complexities of the world building involved, but once the landscape was complete, Dead Iron was a great read. The story is not only filled with standard Steampunk mainstays, like anachronistic technology in a more primitive society, but plenty of magic, too. Monk is committed to the visualization of her novel and painstakingly details every creature and device, even more than her characters, in some cases. 
Cedar is definitely worth cheering for. He's a good man who's haunted by his past, and is paying his penance by doing whatever he can to make things right for others. He is trustworthy and determined, and his acceptance of the changes he notices in himself as he becomes more entrenched in his latest hunt is an easy transition, rather than a jarring epiphany. Which suits him perfectly. 
Monk has also done a wonderful job crafting a truly deplorable antagonist in Shard LeFel. He, along with his henchman Mr. Shunt, is completely evil and unrepentant. He's not even of the "fun to hate" variety. He's loathsome. I spent most of my time while reading his scenes wishing him ill. His final scene, while somewhat graphic, still made me feel a lot better.
The other characters in Dead Iron shine as well, proving Monk has enough faith in her hero to give him some vulnerabilities. Every one of them is fighting their own battle, and doing it well, before realizing that their enemy is a mutual one, and it will take all of them working together to survive. The Madder brothers are especially fun, and I very much hope that will continue to be so as the series progresses. 
I think Dead Iron is a welcome addition to the world of Steampunk. Monk has written a story rich in detail and imagination, and though much of it isn't pretty, all of it is compelling. From the minute details of every "matic," to the town itself, caught between progress and survival, to the offbeat characters, Dead Iron is a captivating tale, which I'm very pleased to have had the opportunity to read. 
B's Rating: 
Enjoyed – strongly recommend (A-)
GIVEAWAY: ROC/Penguin Publishing has generously donated a copy (one winner) of Dead Iron to giveaway here at That's What I'm Talking About. Thank you to ROC/Penguin (

http://us.penguingroup.com

/) for sponsoring the giveaway of Devon Monk's latest book. To enter, please leave a comment at the end of today's review telling me what you like about Steampunk, or if you haven't read before, what you might enjoy. Please also leave your email so I can reach you if you win the book. Only one entry per person. Winner is restricted to US mailing addresses, only. Contest open from June 27, 2011 until Friday July 1, 2011 at 9:00 PM EDT. One (1) winner will be selected from the comment entries using random.org.  The book will be mailed out by the publisher after the release date.