What A Goddess Wants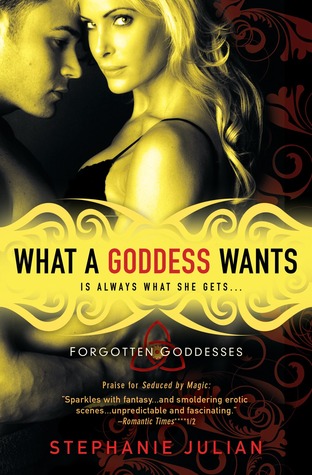 Release Date: July 1, 2011
Publisher: Sourcebooks
Forgotten Goddesses #1
ISBN: #978-1402251474
Genre: Paranormal Romance, Erotic
Format(s): Paperback, e-book
I received a copy of this book from the PUBLISHER for the purposes of an honest review.
From the author's website:
     IN HIS ARMS, HER MAGIC POWERS ARE ON THE RISE…
     Tessa, Etruscan Goddess of the Dawn, is losing her powers and now there's an Underworld god determined to run her down. She needs a hero and fast, because only sexual energy can give her power. So she seeks out Caligo, whose sexual prowess is legendary…
     AND SHE'S THE ONLY ONE WHO CAN BRING HIM INTO THE LIGHT…
     Caligo is a fabled Cimmerian warrior determined to stay away from spoiled goddesses who trample hearts after they've had their fun. But there's something irresistibly hot and inviting about Tessa and he knows he's her only change to escape the encroaching darkness…
What I'm talking about:
     What a Goddess Wants opens with minor goddess, Tessa, in a dream state, running from her life from a powerful god, Charun, who is trapped in the underworld and wants to consume Tessa for her powers. Tessa cannot get help from the parent gods because they have closed themselves off in their own "home plane" of existence and have been unreachable for centuries. This leaves Tessa to seek out her own protector.  When a trusted friend suggests Cal (Caligo), Tessa finds herself at his doorstep, exhausted and close to being captured.
     The chemistry between Cal and Tessa heats up the pages of this book to the point I thought the pages would burn up in my hands! Their attraction is immediate, each finding something in the other that has been lacking in their lives. Cal, like all Cimmerian warriors cannot feel any pain and is impervious to heat and cold. When he touches Tessa, her body heat seeps into Cal's body and soul, leaving him craving for more. Tessa on the other hand has spent several lifetimes playing and having fun with many beautiful men. With Cal, she not only finds pleasure, but a man who genuinely cares for her well-being. And, as the two grow closer, they discover that their mutual desire is regenerating Tessa's once-faded powers.
     What a Goddess Wants kicks off a new series about Forgotten Goddesses. I enjoyed the new (to me) premise for this story and series. The books follow minor Etruscan goddesses who are no longer worshiped and who's powers were usurped by the larger Roman deities. The book is full of new terms and names, but the world-building isn't overly confusing. I do hope the final version (or future books) have a glossary of terms, because it was a lot to remember at times.
     Cal and Tessa's romance was a pleasure to read. As I said, the smex was smokin' and I would definitely classify the book as erotic. Their pairing evolved seamlessly and their mutual desire tugged at my heartstrings.
     The underlying plot was an interesting one, but I wasn't entirely satisfied with the conclusion. I felt the way in which Tessa resolved her "problems" was a little simplistic, or that we just didn't know enough about what actually happened to her. I felt the book featured a few scenes that left me with questions — which isn't necessarily bad since this is the first book in a new series, and future books may give me the answers I seek. In addition, I would like to have learned more about Cal's homeland of Cimer, and the history between the Etruscan and Roman deities. All-in-all it was a good start to a new series and I look forward to reading the next installment.
My Rating:
Liked it a lot – recommend (B+)