Cover Me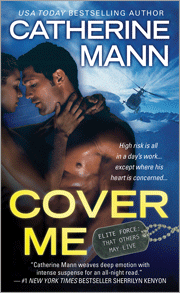 Sourcebooks
"No, ma'am," a gravelly voice boomed back at her, "although I gotta confess I'm cold.  But don't tell my pal Franco I admitted as much.  My buddies can't fly close enough to haul us out of here until the storm passes."
"And who are these buddies of yours?" She looked up fast.
No one else fell from the clouds.  She relaxed her arms around her dog.  He must be some branch of the military.  Except his uniform wasn't enough to earn her automatic stamp of approval, and she couldn't see his face or read his eyes because of his winter gear and goggles. 
He sheathed his knife.  "Air Force pararescue, ma'am.  I'm here to help you hunker down for the night to ride out this blizzard safely."  
All right, then.  That explained part.  It was tough to question the honorable intentions of a guy who would parachute into the middle of a blizzard – on the side of a mountain – to rescue someone.
Still how had he found her?  Old habits were tough to shed.  
"Um" – she squinted up at the darkening sky again – "are there more of you about to parachute into here?"
He shifted the mammoth pack on his back.  "Do you think we could have this conversation somewhere else?  Preferably after we find shelter and build a fire?"
That much she agreed with.
Staying out here to talk could get them killed.  For some reason this hulking military guy thought he needed to save her.  She didn't understand the whys and wherefores of anyone knowing about her presence in the first place.  However simply walking away from him wasn't an option.
Easing to her feet, she accepted the inevitable, sheathed her knife, but kept her hand close to it.  Just in case.
She would not be spending the night in a warm shelter, curled up asleep with her dog.  She would have to stay awake and alert.  With too many secrets, she couldn't afford to let her guard down around anyone, and sprinting away wasn't exactly an option.
Her uninvited hero was already taking charge.  "We need to find the best location to minimize the force of the wind, then start digging out a snow pit."  He had some kind of device in his hand, like a GPS.  "I'll keep the instructions simple, and you can just follow my lead."
"Excuse me, but I've already located shelter.  A cave only a few yards away."  She knew every safe haven on this pass.  She had a GPS too, although it hadn't come out of her case since she left her small mountain community this morning.  "But you're welcome to work on that pit if you prefer."