Today I have the pleasure of chatting with Amanda Copulos from the YA Book Review blog, Short and Sweet as part of Book Blogger Appreciation Week. For more information about BBAW, click HERE.  And be sure to click the link to Amanda's blog to see her interview with me!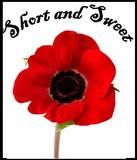 Amanda is from a small town in Central PA.  After a few short stops at Penn State and Washington DC, she is back in another small town in PA where the only heavy traffic to be found are Amish buggies.  She spends way too much time reading and is trying to get herself diagnosed with an addiction to YA paranormal fiction.  When her nose isn't stuck in a book, you can usually find her chasing around her speedy son Micah. Please help me welcome Amanda to That's What I'm Talking About.
Twimom: Amanda, welcome and thank you for stopping by. I've never participated (officially) in BBAW, have you? 
Amanda: Hi there! I haven't participated either! 
Twimom: How/Why did you start blogging? How long have you been blogging?
Amanda: I started blogging back in 2002 on Livejournal.  I started reviewing books in 2009, and after realizing that it felt awkward for me to be posting book reviews and pictures of my family on the same blog- I separated my book reviews from my personal life and hopped over to Blogger in March.  I started blogging as a way to keep in touch with friends from college and to write down memories of Penn State.  I love that there is a huge community of reading nerds that I can communicate with and share with! My friend Mandi is just starting to join me on Short and Sweet– I can't wait until she gets to know the blogging community even more!
Twimom: Yea Mandi! Welcome! What is your preferred genre to read? Blog about?
Amanda: My favorite genre is YA.  I love fantasy novels, but was turned off by all of the sex and gore in adult fantasy- it really just wasn't for me. I love paranormal romance, fantasy, dystopian, sci-fi- anything but zombies!  (I live in a no zombie zone!)  I also love Christian fiction- it can be so cheesy and fluffy!
Twimom: About how many books do you read each year?
Amanda: It depends on the year- I have read many more books this year, now that my son is a little older and less demanding of my time in the evenings.  So far this year, I have read about 100 books, but other years it has been less! 
Twimom: Don't get used to that evening time, it goes away again! What are your favorite all-time and recent books and/or series?
Twimom: Tell me about a favorite childhood reading memory OR a reading-to-your child memory.
Amanda: There is a series of books that my son LOVES and he has since he was a baby.  They are hilarious, a little gross, and so much fun to read to a baby or toddler.  I really think every family should own

Leslie Patricelli's board books

!  My son and I have read them so many times that he can recite them now! 
Twimom: What other hobbies do you have?
Amanda: My son?  I love to paint, play video games, go to yard sales and used book sales, and try new fun restaurants with my husband when I have time.  But mostly I chase a toddler and read-mostly chase a toddler.
Twimom: LOL! I remember those days! What is one book that you think everyone should read if they haven't yet?
Amanda: Wildwood Dancing– it is just so good.  It is a combination of the Frog Prince and Twelve Dancing Princesses (but throw in some witches, fey, and vampires too!)  It is so fantastically written- I hope everyone reads it!
Twimom: Oh, I've not heard of that one, thanks for the recommendation! What are a few of your favorite blogs to look at?
Amanda: I love looking at the "Big Blogs" out there- Mundie Moms, The Story Siren, Ya-Aholic, and Good Choice Reading, but I also love looking at blogs that are smaller like mine.  I like looking at blogs that are in it for the love of reading and to share that love like I am- not in it for the free stuff.  I don't have money to buy books every week- a majority of my books come from the library.  I can't get to conventions or author tours (it really just doesn't happen in Central PA), but I am here and writing because I LOVE to read and I want everyone else to know it.  I love reading blogs from people that are like that and I love discovering new ones!
Twimom: Amanda, once again thank you so much for taking the time to tell my readers a little bit about yourself and your blog. It was wonderful chatting with you.
Amanda: Thank you so much for having me.
You can find Amanda with her blogging partner Mandi at their blog SHORT and SWEET