I would like to thank everyone for stopping by That's What I'm Talking About for a chance to win an ARC of Spider's Revenge by Jennifer Estep.  I especially want to thank Jennifer for giving me this awesome ARC!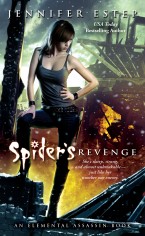 Every person that commented was entered into the contest – one entry per person. The winner was selected using random.org.
~Danni
I'm sending the winner a message; please email me at twimom227 (at) gmail (dot) com with your mailing address so I can send you the book ASAP! Due to the time constraints of the review, you have until Thursday September 8, 2011 (end of day) to contact me. If I don't hear from you by then, I will draw another winner.
Remember: You must have the book read and review to me by September 26, 2011. (I will work with you if there are problems, no worries!)  
Thank you and Happy Reading!