When I was at
Author's After Dark
this past August, I had the privilege of meeting the very talented and insanely sweet,
Jennifer Estep
. At the public book signing, she gave me a copy of her upcoming 
ELEMENTAL ASSASSIN SERIES
fifth release,
Spider's Revenge
(September 27, 2011; Pocket Books). Unfortunately, I haven't read this amazing series yet (it's on the TBR pile!), and I cannot due justice to Ms. Estep's work by reading the 5th book without the knowledge of the first four. So this is where one of my readers gets lucky!!
I am going to giveaway the ARC of Spider's Revenge to one lucky person. HOWEVER, there is a catch… since this is an ARC, we owe it to Ms. Estep to publish a review. Therefore, if you win this book, you will need to do a guest review for That's What I'm Talking About.  Don't let that scare you – the review can be as short or long as you like. I just ask for some details about what you liked/didn't like and a rating. I'll format it and post it to my blog. Your review will be featured on September 28, 2011.  
ABOUT THE BOOK:
Old habits die hard. And I plan on mur­der­ing some­one before the night is through. 
Killing used to be my reg­u­lar gig, after all. Gin Blanco, aka the Spi­der, assassin-for-hire. And I was very good at it. Now, I'm ready to make the one hit that truly mat­ters: Mab Mon­roe, the dan­ger­ous Fire ele­men­tal who mur­dered my fam­ily when I was thir­teen.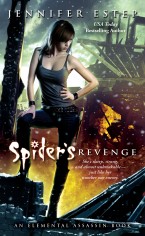 Oh, I don't think the mis­sion will be easy, but turns out it's a bit more prob­lem­atic than expected. The bitch knows I'm com­ing for her. So now I'm up against the army of lethal bounty hunters she hired to track me down. She also put a price on my baby sister's head. Keep­ing Bria safe is my first pri­or­ity. Tak­ing Mab out is a close sec­ond. 
Good thing I've got my pow­er­ful Stone and Ice magic — and my irre­sistible lover Owen Grayson — to watch my back. This bat­tle has been years in the mak­ing, and there's a chance I won't sur­vive. But if I'm going down, then Mab's com­ing with me…no mat­ter what I have to do to make that happen.
In order to get the review posted on time, I am holding a SHORT contest, and I will priority mail the book to the winner ASAP. Due to constraints, the contest is only open to US mailing addresses. You must have the book read and review to me by September 26, 2011. (I will work with you if there are problems, no worries!)  Again, since this is the fifth book in the series, I'm really looking for people that have already read the series.
The Rules: To be entered, you must leave a comment telling me your favorite book in Ms. Estep's Elemental Assassin Series to date. You do not need to be a google follower of my blog, but it always appreciated. Contest is open from September 3, 2011 until Tuesday September 6, 2011 at 9:00 PM EDT. If your email is not part of your profile, please leave it so I may contact the winner.  One entry per person. Contest is restricted to US mailing addresses only. One (1) winner will be selected from eligible entries using random.org. Winner shall provide a review of the ARC by September 26, 2011, which will be posted on That's What I'm Talking About on September 28, 2011. I am not responsible for items lost in the mail.
Thanks and Happy Reading!