Clockwork Prince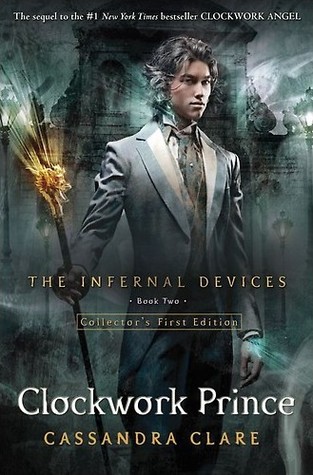 Release Date: Dec. 6, 2011
Publisher: Margaret K. McElderry Books
Infernal Devices #2
ISBN: #978-1416975885
Genre: Young Adult (Historical Urban Fantasy)
Format(s): Hardcover (528 pgs), e-book, audio
Book Source: Purchased with my own funds
     In the magical underworld of Victorian London, Tessa Gray has at last found safety with the Shadowhunters. But that safety proves fleeting when rogue forces in the Clave plot to see her protector, Charlotte, replaced as head of the Institute. If Charlotte loses her position, Tessa will be out on the street—and easy prey for the mysterious Magister, who wants to use Tessa's powers for his own dark ends. 
     With the help of the handsome, self-destructive Will and the fiercely devoted Jem, Tessa discovers that the Magister's war on the Shadowhunters is deeply personal. He blames them for a long-ago tragedy that shattered his life. To unravel the secrets of the past, the trio journeys from mist-shrouded Yorkshire to a manor house that holds untold horrors, from the slums of London to an enchanted ballroom where Tessa discovers that the truth of her parentage is more sinister than she had imagined. When they encounter a clockwork demon bearing a warning for Will, they realize that the Magister himself knows their every move—and that one of their own has betrayed them. 
     Tessa finds her heart drawn more and more to Jem, though her longing for Will, despite his dark moods, continues to unsettle her. But something is changing in Will—the wall he has built around himself is crumbling. Could finding the Magister free Will from his secrets and give Tessa the answers about who she is and what she was born to do? 
     As their dangerous search for the Magister and the truth leads the friends into peril, Tessa learns that when love and lies are mixed, they can corrupt even the purest heart.
What Una is talking about:
     It may be solely because of the nostalgia that I feel from reading them, but I do love young adult novels.  I will, however, preface this by saying I have learned that whiny, impulsive, immature heroines/heroes do not appeal to me (this assumes that they do not learn from their mistakes).  However, Cassandra Clare has created a rich world of characters that becomes a part of you through her Mortal Instruments and her Infernal Devices series.
     The Infernal Devices series is a prequel to Clare's Mortal Instruments series.  I thoroughly enjoyed the Mortal Instruments series and looked forward to reading more of the mythology Ms. Clare had created in a historical Victorian setting.  I was not disappointed. You do not need to read the Mortal Instruments series before starting this series, however you need to read the first book, Clockwork Angel in order to understand what continues in Clockwork Prince.
     In Clockwork Prince, we find Tessa struggling with the truths uncovered in Clockwork Angel and the rejection she feels.  As the story progresses, so does her relationship with other members of the Institute.  We are also given a glimpse into Will's inner heart and the truth behind his prickly exterior.  In this series, we are not wholly bound to Tessa's perspective; the reader is allowed access to other character's experiences, which make the overall feel of the story richer.
     I have recently been exposed to Steampunk, and I am really enjoying this new urban fantasy niche.  It is a small portion of the Infernal Devices series, but I love how it is woven into background of these novels.  I find it absolutely fascinating and Ms. Clare does an expert job of including it as an element and yet keeping it from becoming overwhelming.
     Readers of both the Mortal Instruments and Infernal Devices series will be rewarded by the opportunity to see more of the character Magnus Bane, the warlock.  He was one of my favorite characters from the Mortal Instruments series, and I absolutely love his witty character in this novel.  We see so much more of him in this book and have the opportunity to see how much he has changed in later books.
     So many questions are still left unanswered about the Magister, but some important ones are resolved.  The love triangle, which reaches its pinnacle in this story, is also quite gripping.  With the culture of the time period and its morays, this is a rich and thrilling story, full of contrasting elements, action and adventure, mysteries to be solved and love to conquer.  Please check out this worthwhile series!
Loved it – enthusiastically recommend (A)
Books in the Series:
Clockwork Angel (Infernal Devices 1)

Clockwork Prince (Infernal Devices 2)