Today I have the honor of bringing to you paranormal and suspense romance author Shiloh Walker. Shiloh has been writing since she was a kid. She fell in love with vampires with the book Bunnicula and has worked her way up to the more…ah…serious works of fiction. She loves reading and writing anything paranormal, anything fantasy, and nearly every kind of romance. 
Once upon a time she worked as a nurse, but now she writes full time and lives with her family in the Midwest.  She writes paranormal and contemporary romance, as well as romantic suspense. Please help me welcome Shiloh toThat's What I'm Talking About. 
Twimom: Shiloh, welcome and thank you for stopping by.
Shiloh: Thanks so much for having me…!
Twimom: I'm very excited to have this chance to chat. I've been a twitter follower for a couple years, but just recently read my first Shiloh Walker book, The Departed. I LOVED the story and started adding some of your books to my TBR pile. You have an EXTENSIVE backlist, do you have a favorite book or series? Can you pick one of your series and tell my readers a bit more about it?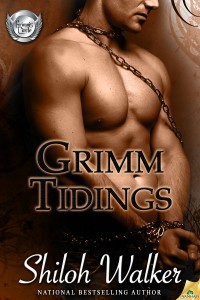 Shiloh: Oh, that's hard…I'm partial to my Grimm series…I bastardize fairy tales in that one, but I know not everybody loves paranormal like I do.  The Departed is one my FBI Psychic books and that's a good series to start with, I guess…it's more of a reality-based paranormal, the characters are psychics who work for a special task force for the FBI.  So far, there are just two stories, The Missing and The Departed but there's a novella due out this summer in the Hot in Handcuffs anthology and then another full-length book due out next year, I believe.
Twimom: During this month is the release of one of your Hunters Series books, Hunter's Rise. Can you share more about the book and this paranormal series? Is there a place for a "newbie" to jump into the series?
Shiloh: Actually, almost any of them…I try to write them to work on their own and Hunter's Rise would work completely fine as a stand-alone.  The only ones that aren't quite as easy to follow without some idea of what's going on would be the ones involving the storyline about Nessa, a slightly crazy witch.  There are some older stories that I'm reissuing digitally if somebody wants to get in at the very beginning, although those stories are hotter and the focus was a little different than what it is now.
Twimom: Review team member, B, has a review of Hunter's Rise later today (4 Stars), and agrees that you can read it as a stand alone.
Your books include paranormal, contemporary and suspense romance. Do you prefer writing one genre over another? Is one easier to write from a technical or research side?
Shiloh: Suspense is a little harder because you want to keep the 'feel' of it more real, but I enjoy writing all of it.  I get bored easy and writing everything feeds into my need for changing things up.
Twimom: What's up next for Shiloh?
Shiloh: Who knows…I'm hoping to sell another romantic suspense trilogy and I've got another idea for some FBI psychics, but we'll just have to wait and see!
Twimom: I look forward to find out! I always like to ask authors about their reading habits… What types of books do you enjoy reading? What is your favorite read of 2011 or so far in 2012?  
Shiloh: I tend to stick with romance and urban fantasy.  Some of my favorite authors are SL Viehl/Lynn Viehl, Nora Roberts/JD Robb, Stacia Kane, Ilona Andrews… favorite reads?  I've really loved Oracle's Moon by Thea Harrison and Sacrificial Magic by Stacia Kane.  There are a couple of others I really loved but I don't know if I'm supposed to mention that I've read them yet!
Twimom: Oh Man! Now I'm dying to know what books you've gotten your hands on already! 😉 What upcoming 2012 releases are you most excited to read?
Shiloh: Chasing Magic by Stacia Kane, Gunmetal Magic by Ilona Andrews
Twimom: Oh! Gunmetal Magic is at the top of my list, too! 
Shiloh, once again thank you so much for taking the time to tell my readers a little bit about yourself and your writing. It was wonderful chatting with you.
Shiloh: Thanks for having me!
You can find Shiloh Walker on line at