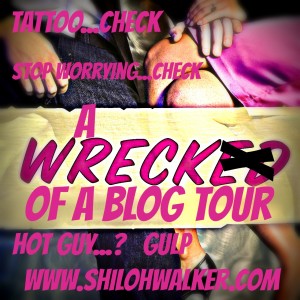 Shiloh's A WRECK OF A BLOG TOUR!
Enter to win a date with Shiloh Walker** 
(drinks at RT 2013 or Lori Foster/Duffy Brown RAGT)
She's out to wreck her life…he's out to remake it…check out Shiloh Walker's WRECKED.
Excerpt
"What in the hell just happened?"
Zach's lips touched the back of her neck. "Well, I'm no expert, but I think you kissed me," he said, his voice teasing. "And I'm pretty sure we both enjoyed it. But maybe we should try again."
And then she found herself on her back, staring up into a pair of dark blue eyes that she knew very, very well. They'd always seemed to glint with mischief, or trouble . . . but she'd never realized just how much they glinted with that kind of trouble.
As his mouth came down on hers again, Abby barely had time to catch her breath. Then she was wondering why she'd even bothered. He stole the oxygen right out of her with his kiss. His tongue stroked along hers, moving into her mouth with an easy assurance that belied his words.
I'm no expert.
A WRECKED OF A BLOG TOUR mini interview
by Shiloh Walker and VampBard
Shiloh's responses to the questions are preceded by SW and in BOLD ITALICS.  Cuz she's more important, and more interesting, and, frankly, no one wants to hear about me.  🙂
Q: Do you have a tattoo?
SW: Yep…it's a feather quill on the back of my right shoulder.  Quills…writers.  Made sense to me.
VB: Certainly.  I'm a tat junkie. I have 3 – my momma tramp stamp, my freedom tat, and one representing Mr. VB, myself, and our kids.  It looks like one big piece – and it is my Twitter avi.  Next tat:  an orchid ribbon, representing Mr. VB's victory over cancer.
Q: How do you feel about friends to lovers romances?
SW: I'm very partial to them…I married a guy I'd been mostly friends with all my life (I say mostly because I'd had a crush on him since I was 11.)
VB:  Friends-to-Lovers is a completely believable romance for me.  Like Shiloh, I married (the second time…) a guy I'd been friends with for awhile (He was married to my best -girl-friend. They divorced, and we ended up together – with her blessing).  We are inseperable.  
Q: Have you ever used the WRECK THIS JOURNAL thing?
SW: I bought one…it inspired the idea behind WRECKED.
VB: I have never been into that type of structured journaling.  I looked at WRECK THIS JOURNAL as a way to get my daughters to write more, and document their feelings.  Yeah.  That didn't go far. They're too much like their mum.
Q: Do you journal?  
SW: I played with the WRECK journal, and still have it sitting on my shelf.  Did a few ideas inside it while I was writing the book, but I'm not much of a journaler.  I do most of my writing in my books and my blog.
VB:  I journal while I'm going through a patch where I simply have to get my thoughts, feelings and emotions out.  Primal scream therapy is frowned upon in my household at 3:00 a.m.  My journal is a locked file on my computer.  I don't journal long-hand anymore, although I did during college.
Q: Are you more like Zach (just let life happen) or Abby (try to plan things out)?
SW: Mostly Zach…I let life happen, but I do tend to try and control stuff.  I can't plan worth crap, though and organization evades me.  That would drive Abby nuts.
VB:  I'm a blend, I think.  When it comes to ensuring that my kids have everything, I'm a freak-monster about planning CERTAIN things.  Meals, timeframes, that kind of thing.  However, I'm the pack the car – let's roadtrip girl.  And…I'm planning **snicker** to dump the tent in the car late Friday afternoon with Mr. VB, and heading a direction.  We'll find a campsite!  
Thanks for the fun, Shiloh! Since I can't make it to RAGT, MAYBE … if That's What I'm Talking About wins, Jen can collect and y'all can SKYPE me in 🙂  Or… I can be that 'let life happen' girl and pack up the family for a road-trip to Ohio!  
You too can enter the contest to win… Complete the Rafflecopter form, below. Contest details are HERE. 
**The Fine Print from Shiloh**
**I'll buy you a drink ~I can't buy you alcohol if you're under 21, though~ we'll sit there and chat and while we drink, you can have ten minutes to poke around on my laptop (FYI, you won't have access to all my books…but the winner gets a sneak peak at coming soon projects…ten minutes, max, and there will be no pictures, no copying, etc…)
If the winner isn't able to attend either function, I'll send you a GC for the cost of two drinks (approximate value is probably about $30 ~going by RT drink prices ~to BN or Amazon).