My Soul Immortal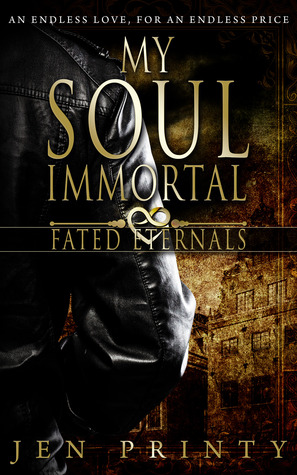 Author: Jen Printy
Reviewer: VampBard
Rating: B
What I'm Talking About:
My Soul Immortal was definitely not what I expected. The story is well-told, and engaging. Polished. I'd classify it as NA. Everything is quite chaste, and I wouldn't have a problem with my daughter or my older high school students reading it. There's several things, such as references to pot use, drinking, and suicide that make me nix it for those less mature.
Leah, the not-so-crazy female love interest in this title, is artistic. And darn it, as much as I didn't want to like her, to see character flaws that would make me look at her as a whiner, I couldn't find any. Attending college to obtain an art degree, she paints what she knows. And the paintings are full of emotion and breathe life. She's logical, down-to-earth, and I loved the way she handled things throughout the course of the story.
Jack, the immortal hero of the novel, is pretty darn close to perfect, in my opinion. He works in a used bookstore, is willing to work, is well-read, and has a decent head on his shoulders. He's not afraid to cry. He thinks about others. He has a conscience. Since he's been alive for 170 years, he should have learned all those lessons over the course of his lifespan. While he doesn't know exactly **why** he's immortal at the onset of the title, he does learn and is beginning to pick up details from a stranger that has made appearances throughout his nearly two-century lifespan.
A crazy Immortal Council, 'gathering', and a cool dude named Artagan make things interesting. Once I got into My Soul Immortal, I appreciated the gentlemanly ways of Jack. The reader gets to experience a book full of want and desire, without the sex. Makes me wonder if Jack is a virgin. **ponders** Deeply rooted in the ways of the 'old world', he's simply divine. His manners come from a time long past. Reading about a true gentleman makes me yearn for a return to chivalry and the rules of society. Probably because I'd be the first to break them. 🙂
Overall, this is a great **clean** book marketed to the adult paranormal romance market. If you're looking for erotica and/or steamy sex scenes, keep looking. However, if you're looking for beautifully written scenes that immerse the reader, this is the title for you. Looking forward to reading more from Ms. Palty, and further installments of the Fated Eternals series. Kinda curious about Artagan, and how he ends up!
My Rating: B, Liked It
About the Book:
An endless love, for an endless price. 
Jack's immortality is exposed when he prevents a liquor store heist, forcing him to flee to protect his secret—a secret not even he understands. But when he meets Leah Winters—a mirror image of his decades-lost love, Lydia—his very soul is laid bare. He begins to question his sanity. Is she real, and if so, what does that mean for Jack and his secret? 
Jack's not the only mystery man in town. A stranger named Artagan hints at knowledge Jack is desperate to possess. But can he trust Artagan, or does the dark newcomer harbor deadly secrets of his own? 
As Jack's bond with Leah grows, so does the danger to her life. Jack must discover just how much he is willing to risk in order to save the woman he already lost once.
Release Date: February 22, 2014
Publisher: Red Adept Publishing
Series: Fated Eternals #1
Genre: Paranormal Romance, New Adult
Format(s): paperback (312 pages), e-book
Book Source: Publisher/Author
Purchase Info:
My Soul Immortal (Fated Eternals #1)