The highly anticipated finale to the #1 New York Times bestselling trilogy
THE BOOK OF LIFE
Book Three of the All Souls Trilogy
by
Deborah Harkness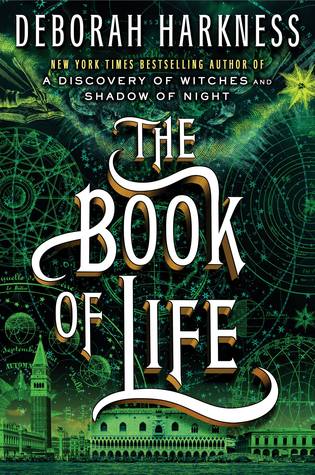 "Harkness proves to be quite the alchemist as she combines elements of magic, history, romance, and science, transforming them into a compelling journey through time, space, and geography. By bridging the gaps between Harry Potter, Twilight, and Outlander fans, Harkness artfully appeals to a broad range of fantasy lovers…The conclusion of this paranormal adventure is guaranteed to fly off the shelves."
—Booklist
Praise for SHADOW OF NIGHT
"The joy that Harkness, herself a historian, takes in visiting the past is evident on every page…A great spell, one that can enchant a reader and make a 600-page book fly through her fingertips, is cast."
—Entertainment Weekly
"Deborah Harkness takes us places we've never been before…Readers time-travel as precisely and precariously as Diana and Matthew do…Shadow ends as Discovery did, with promises of more to come. Lucky for us."
—USA Today
THE BOOK OF LIFE is the highly-anticipated final installment of the bestselling All Souls Trilogy by Deborah Harkness (Viking; On-sale: July 15, 2014; $28.95). The trilogy began with A Discovery of Witches which People magazine called, "A wonderfully imaginative grown-up fantasy with all the magic of Harry Potter or Twilight". The sequel Shadow of Night debuted at #1 on the New York Times bestseller list, and the Miami Herald called it, "Enchanting, engrossing and as impossible to put down as its predecessor…a perfect blend of fantasy, history and romance." In total, over one million copies have been sold in the States with publications following in 38 countries, leaving legions of fans eagerly awaiting THE BOOK OF LIFE, the satisfying conclusion to this superbly written series.
THE BOOK OF LIFE picks up right where Shadow of Night left off.  After traveling through time, historian and witch Diana Bishop and vampire scientist Matthew Clairmont return to the present to continue their hunt for the magical alchemical manuscript, Ashmole 782, otherwise known as the Book of Life.   At Matthew's ancestral home at Sept-Tours, they re­unite with the cast of characters from A Discovery of Witches—with one significant exception—ready to face old enemies. But the real threat to their future has yet to be revealed, and when it is, the search for the Book of Life and its miss­ing pages takes on even more urgency. In the tril­ogy's final volume, Harkness deepens her themes of power and forbidden passion, family and caring, past deeds and their present consequences. In ancestral homes and university laboratories, using ancient knowl­edge and modern science, from the hills of the Auvergne to the palaces of Venice and beyond, the couple at last learn what the witches discovered so many centuries ago.
ABOUT THE AUTHOR
Deborah Harkness is the number one New York Times bestselling author of A Discovery of Witches and Shadow of Night. A history professor at the University of Southern California, Harkness has received Fulbright, Guggenheim, and National Humanities Center fellowships. Her publications include works on the history of science, magic, and alchemy.  Her most recent scholarly book is The Jewel House: Elizabethan London and the Scientific Revolution.  She lives in Los Angeles.
Deborah Harkness will be touring to:
New York City * South Hadley, MA * Canaan, NH * Boston * Raleigh * Miami
Decatur, GA * Philadelphia * Los Angeles * San Diego * San Francisco * Portland
Seattle * Chicago *Milwaukee * Minneapolis/St. Paul * St. Louis * Cincinnati
Houston * Austin * Denver * Scottsdale, AZ
www.deborahharkness.com
@debharkness • facebook.com/AuthorDeborahHarkness