City of Heavenly Fire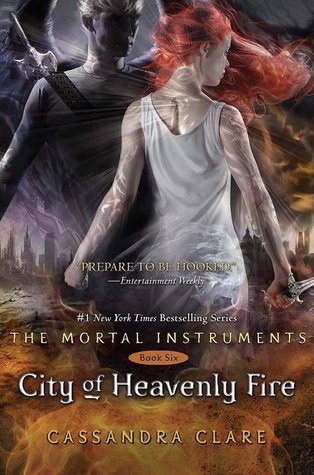 Author: Cassandra Clare
Reviewer: Una
Rating: A+
What I'm Talking About:
It seems lately I have been reviewing the end-of-a-series books.  So far, they have all been well done.  City of Heavenly Fire is no exception and in fact is amazing!  It is beautifully crafted, brimming with pathos, and completely tensioned filled; I was mesmerized, overwhelmed, and ensnared.  The course of the last five books reached an unexpected and almost hopelessly impossible pinnacle, and I find myself left with a beautiful sense of peace and a core of hope.  City of Heavenly Fire is by far my favorite book of the series!
Ms. Clare certainly has the ability to craft a poetic epic.  The imagery, the characters and situations; they all seem orchestrated to music.  The feelings she evokes, the images her words paint, the knowledge she plants, combine to an incredibly all-encompassing read.  For a novel that is over 700 pages, it goes by quickly and yet, at times, each second lasted pages.  Frequently, the tension is tempered by humor, but more often I found it tempered by several different emotions: love, desire, fear, confusion, and sometimes cold logical thinking ("what on earth was next" being the most popular in my mind).  But what I find the most humorous of my read is that I am the main culprit for a good deal of the tension.  The war was coming; the majority of the novel is a chess game.  Yet, just when I think the pieces are in position, I discovered that we were not quite to the end game.  I found myself expecting the worst around each turn due to the loss of a character early on in the novel.
City of Heavenly Fire truly takes us full circle.  Though the novel does wrap up with a big bow of hope, we still grieve the losses.  However, Ms. Clare writes about loss in more than the conventional way.  Though there are moments and players that I could tell were key, the way it unfolds is completely a surprise.  I was stunned by some of the sacrifices that take place.  Some sacrifices are in the form of death, but some are political, some are of love, friendships, and some of home or the path of what could have been.  If Ms. Clare plays as she writes, I would be a poor opponent indeed at the chess table.  Although I am taken by the twists, they are logical.  Nothing about this ending is without its foundation in the mythology.  My apologies for the vagueness but I would be doing you all a great disservice if I were to spoil you.
The character themselves come full circle as well. Our main group of characters find themselves stronger, wiser and better, in some ways matured beyond what is expected at their age.  They truly illustrate the Shadowhunter saying that (and I'm paraphrasing) we are tempered by fire.  Through these experiences, they are indeed stronger in all the positive ways.  One of my favorite elements in a story is the concept of redemption.  Can someone be beyond redemption?  How can someone redeem themselves?  I loved how Ms. Clare treated this element in City of Heavenly Fire.  It was completely unexpected and unnoticed by me until just now as I was putting my thoughts together for this review.  Jordan, Jace, Alex, Clary and a couple others each experience it in different ways, but it is no less poignant.
If you haven't completed The Mortal Instruments series, you must!  Ms. Clare saved the best for last.  Thank you so much for sharing these characters and this world with us.  Thank you for the emotional, thought-provoking and to some extent soul-searching adventure you bestowed.  I look forward to the next series, The Dark Artifices, with the first novel to debut next year.  If you haven't read this series yet, you really should get to it.
My Rating (Novel):  A+ Personal Favorite
My Rating (Series):  A, Loved It
About the Book:
In this dazzling and long-awaited conclusion to the acclaimed Mortal Instruments series, Clary and her friends fight the greatest evil they have ever faced: Clary's own brother.
Sebastian Morgenstern is on the move, systematically turning Shadowhunter against Shadowhunter. Bearing the Infernal Cup, he transforms Shadowhunters into creatures out of nightmare, tearing apart families and lovers as the ranks of his Endarkened army swell.
The embattled Shadowhunters withdraw to Idris – but not even the famed demon towers of Alicante can keep Sebastian at bay. And with the Nephilim trapped in Idris, who will guard the world against demons?
When one of the greatest betrayals the Nephilim have ever known is revealed, Clary, Jace, Isabelle, Simon, and Alec must flee – even if their journey takes them deep into the demon realms, where no Shadowhunter has set foot before, and from which no human being has ever returned…
Love will be sacrificed and lives lost in the terrible battle for the fate of the word in the thrilling final installment of the classic urban fantasy series The Mortal Instruments!
Release Date: May 27, 2014
Publisher: McElderry Books
Series: The Mortal Instruments #6
ISBN: #978-1481426305
Genre: Young Adult (Paranormal)
Format(s): hardcover (725 pages), e-book, audiobook
Book Source: Purchased with my own funds
Purchase Info:
City of Heavenly Fire (The Mortal Instruments #6)