Out of Bounds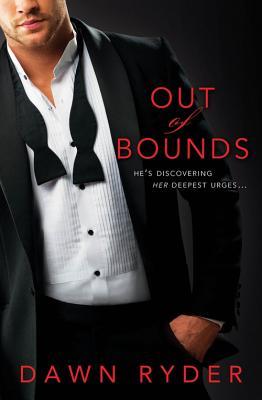 Author: Dawn Ryder
Reviewer: VampBard
Rating: B-
What I'm Talking About:
Out of Bounds, the newest release from author Dawn Ryder, was full of awesome, hot sex. As should any erotic tale worth its salt. With light BDSM and a woman with her own desire to dominate, I enjoyed this story.
Tarak and Sabra make a wonderful couple. She's got enough of a backbone to stand up to his bossy ways. He's not willing to let her go. Sounds like the basis for a great relationship. Really, it is a sweet story. It's a first (for me) set (partially) in Alaska.
Told from Sabra's POV, we get to see what she's thinking and how she feels about everything. Sabra is intelligent and well-grounded. I like that about her. She's not a fluff-head that is out to look awesome in the newest designer suit. She's a realist.
Tarak, the intense owner of a huge company, falls into uncharted terrain rather rapidly once he meets Sabra. Used to getting what he wants with a snap of his fingers, Tarak is definitely a Mr. Bossypants. I'm sure he'd had plenty of women tripping over themselves to get in his bed. I can understand Sabra's reluctance to cross that line. Especially since he's her boss. *boggle*
A there were five plot inconsistencies in the ARC copy of Out of Bounds that I read. They bothered me, and I actually went back to see if I'd misread. I even used the search feature on my Kindle to see if I'd missed an explanation because of a phone call (um. How DARE someone call me when I'm reading?!?).
What I really liked about the end of Out of Bounds was the fact that even though there was a baby hiccup in the relationship between Tarak and Sabra, it was quickly resolved. The bulk of the conflict came from inner turmoil, and those are the types of stories I like to read – especially for contemporary erotic romance. I see room for a second book, to follow this one, involving the besties of Tarak and Sabra. Betting they end up with the wedding hook-up! I'll definitely read the next title, if there's one offered!
My Rating:  B- Liked It, but I had a few small issues
About the Book:
Power may be best when it's shared…
He's used to dominating…
Tarak Nektosha is a self-made man, against all odds. He accomplished that by making sure he's the one in charge, both in the boardroom and in the bedroom.
She's taking her power back…
Sabra Donovan has ambition to spare and energy to burn. So what if her last lover was a disappointment? She's never going to be anyone's plaything ever again.
Sabra's outstanding performance at a corporate photo op attracts Tarak's attention, and the lines begin to blur. What happens when the one on top surrenders and the one used to obeying begins to call the shots.
Release Date: June 3, 2014
Publisher: Sourcebooks
ISBN: 978-1402287121
Genre: Erotic Romance
Format(s): paperback (240 pages), e-book
Book Source: Publisher/NetGalley
Purchase Info:
Out of Bounds