Magic Breaks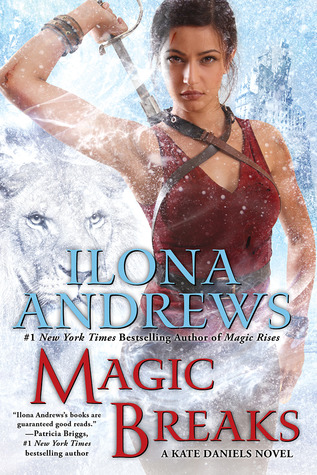 Author: Ilona Andrews
Reviewer: Jen Twimom
Rating: A
What I'm Talking About:
NOTE: After seriously struggling on how much to include in my review of this book, I have decided to include a separate section at the end of the review with anything that may be considered a spoiler.
After recently completing my "re-read" of the entire Kate Daniels series via audiobooks (check out my post on listening to audiobooks), I was primed and anxious to start Magic Breaks. In fact, probably too anxious: I was downright apprehensive. And when the book opens with a note to readers from the authors stating "some really big things happen in this book," and "it reads like the final book in the series, but it's not," I was petrified! What was going to happen to my beloved characters? Although I went into the book mostly confident that the authors would continue their style of ending the story with a mostly happy ending, I wondered what would be the cost for Kate and her family?
I share all of this because my feelings honestly interfered a bit with my enjoyment of the book. I found that at times I was reading too fast – wanting to get to the next action scene because I was fearful of what would happen. Then at other times, I didn't want to pick up the book because I was worried. Without sharing spoilers, I will state that the authors (once again) do a fabulous job, and I think that this is a book that I will grow to love more with subsequent re-reads. If you have yet to pick up Magic Breaks, do not let your worry for the characters and what happens by the end of the book spoil your reading experience!
As the story opens, we find Kate and Curran back in the Keep, recovered from their exhausting and deadly trip overseas (Magic Rises). Now that Hugh D'Ambray knows about Kate, she doesn't have to hide her magic, so she practices her blood magic in the Keep, getting undead blood from various sources. Kate is also busy with her business, Cutting Edge, and is hoping to gain support from the local newspaper by saving the chief editor's magical pet. Unfortunately, when Curran is called away for a few days, Kate must attend the monthly conclave meeting with the People, whom she's been avoiding since her encounter with Hugh. At the conclave meeting, all hell breaks loose when the Pack is accused of killing Mulradin Grant, one of the People's premiere Masters of the Dead. Kate must use all her talents to prevent an all-out war between the Pack and the People.
Magic Breaks takes readers on a high-adrenaline journey that marks a turning point for Kate Daniels. Now that she's been "outed" as Roland's daughter, Kate is learning to embrace the magic she has kept hidden for her whole life. In addition, she's forced to take on a solo-leadership role with Curran out of town and the Pack on the verge of war. It is fabulous that in this, the eighth overall book, Kate continues to grow and her character development deepen. She's still our same beloved heroine, just with so much more. The same goes for Kate and Curran's relationship. After the emotional turmoil in Magic Rises, I am pleased that the couple continues with forward momentum, genuinely learning from their exploits and missteps while overseas. They are still my favorite couple EVER!
During the course of the book there are a few scenes which long-time fans of the series have been waiting for. Such is the case with the overdue confrontation between the Wolf Alpha, Jennifer, and Kate. I was so happy to see Kate keep her cool, but finally tell Jennifer what she thinks of her. In addition, both Kate and Curran exorcize some demons left over from the previous book. It is scenes like these that make the book so rewarding for me.
One of the highlights of the book for me was the extended time that Kate and her Master of the Dead nemesis, Ghestek, spend together. I've always appreciated how Ghestek seemed to steer clear of major confrontations, meanwhile respecting Kate and her abilities, and I am please with his continuing course of actions. His backstory is to die for, and getting to read his reaction when he finally figures out just who Kate is was marvelous!
The authors continue to expand their already impressive world, bringing in more mythology that is based in Earth's own history and twisting it with their own unique brand. The storytelling is utterly sublime, and regardless of how many new characters or mythologies that are introduced, the plots are seamless. They weave such amazing tales which all coalesce into the perfect climax, that even with all the facts in front of me, I was still blown away.
The only slightly negative thing I have to share is that I had trouble staying with the story during a couple of slower times. I found that I had trouble investing myself in the story during the first quarter of the book, but I blame this solely on my own issues as described in earlier in the review. There is another point in the story where Kate and company are trapped and being chased within a large structure, and I just wanted them out so the story could move on.
All in all, Magic Breaks is some of the best plot development and storytelling ever. The authors move the overall story arc in a profound forward direction, which is not superficial nor contrived. It was exhausting, yet wonderful to read. I am so invested in these characters, and I look forward to spending more time with Kate, Curran, and all the rest in upcoming books.
At the conclusion of Magic Breaks, readers are treated with a short story titled Magic Tests, which is told from Julie's POV, and occurs sometime in the past year but prior the current book. Kate is forcing Julie to go to school, and Julie doesn't feel she should have to go. There is a missing girl at the Seven Star Academy and Julie is hired via Kate to find her.
I enjoyed this short story. Julie's voice isn't quite her own – sounding a lot like a young Kate. But that's to be expected, and it works. The school reminds me of Hogwarts, full of magical kids who are jockeying for position. It is fun watching Julie think like Kate, but using her own unique magic. I like that she's finally making friends. Overall, it's a fun story.
CONTINUE READING FOR ADDITIONAL REVIEW COMMENTS THAT *MAY* BE CONSIDERED SPOILERISH.
The first thing I want to mention, which isn't really a big surprise, is that Hugh returns in a big, bad way. While I found him to be almost charming in Magic Rises, his transformation into Roland's feared warlord is complete within the pages of Magic Breaks. Some of his actions are so extreme and nearly insane that any intrigue I held for the character is now banished. I appreciate that he is an antagonist that I can hate, and I look forward to seeing what comes of Hugh in subsequent tales.
In addition, Magic Breaks marks the juncture when Kate (and readers alike) finally meets Roland. I have to say that it was nothing like I had imagined, yet all that I could have hoped for. I am fascinated with Roland, and I really like how his character is presented. I appreciate his intelligence and apparent honesty. I also found Kate's thought process in dealing with Roland remarkably rich and well-rounded. The authors have opened up so many doors with Roland, and I for one cannot wait to see what will happen next.
END OF POTENTIAL SPOILERS
My Rating:  A, Loved It
About the Book:
As the mate of the Beast Lord, Curran, former mercenary Kate Daniels has more responsibilities than it seems possible to juggle. Not only is she still struggling to keep her investigative business afloat, she must now deal with the affairs of the pack, including preparing her people for attack from Roland, a cruel ancient being with god-like powers. Since Kate's connection to Roland has come out into the open, no one is safe—especially those closest to Kate.
As Roland's long shadow looms ever nearer, Kate is called to attend the Conclave, a gathering of the leaders from the various supernatural factions in Atlanta. When one of the Masters of the Dead is found murdered there, apparently at the hands of a shapeshifter, Kate is given only twenty-four hours to hunt down the killer. And this time, if she fails, she'll find herself embroiled in a war which could destroy everything she holds dear…
Release Date: July 29, 2014
Publisher: ACE
Series: Kate Daniels #7
ISBN: #978-0425256220
Genre: Urban Fantasy
Format(s): hardcover (302 pages), e-book, audiobook
Book Source: Publisher
Purchase Info:
Magic Breaks (Kate Daniels #7)
Reviews in the Series:
Magic Bleeds by Ilona Andrews (Kate Daniels #4)
"Magic Dreams" by Ilona Andrews (Kate Daniels #4.5)
Magic Slays by Ilona Andrews (Kate Daniels #5)
"Magic Gifts" by Ilona Andrews (Kate Daniels #5.4)
Gunmetal Magic by Ilona Andrews (Kate Daniels #5.5)
Magic Rises by Ilona Andrews (Kate Daniels #6)
I love comments… so please let me know your thoughts. However, please keep the comments SPOILER-FREE! Thanks!