The Book of Life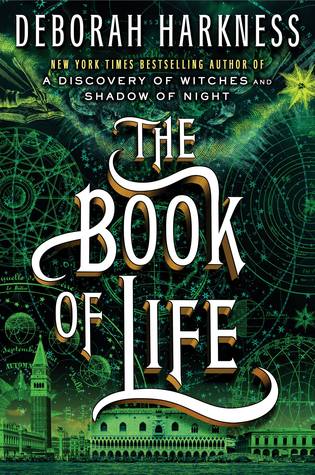 Author: Deborah Harkness
Reviewer: Vampbard
Rating: B+
What I'm Talking About:
The Book of Life, third and final title in the All Souls trilogy by Deborah Harkness was… Wow! Wrapping up this series in a manner that wouldn't disappoint readers was no small feat, but Harkness managed with skill.
The first thing I want to mention is that I adored seeing ALL the characters again. I enjoyed watching further character development, and the way the characters interacted with every single one having a purpose. I also adore Ms. Harkness' s voice. Diana is such a genuine character. Even when things are overwhelming, and not perfect, she has feelings bit manages to work things out. Matthew adopts a huge responsibility. Several, actually. In the end, I'm proud of him for doing what needs to be done.
I smile when I think about Matthew and Diana. They seem balanced, even though Matthew is super over-protective. Diana knows her husband well enough to anticipate needs, as well as accept his role within the family and stand by his side.
Readers should be sure to read the first two titles in this series before embarking on The Book of Life. I can't say any more because knowing how this story ends, I am simply giddy and want to run on about all the different events. But, no spoilers in this review. I hope you enjoy the All Souls trilogy as much as I did!
My Rating:  B+ Liked It A Lot
About the Book:
After traveling through time in Shadow of Night, the second book in Deborah Harkness's enchanting series, historian and witch Diana Bishop and vampire scientist Matthew Clairmont return to the present to face new crises and old enemies. At Matthew's ancestral home at Sept-Tours, they reunite with the cast of characters from A Discovery of Witches—with one significant exception. But the real threat to their future has yet to be revealed, and when it is, the search for Ashmole 782 and its missing pages takes on even more urgency. In the trilogy's final volume, Harkness deepens her themes of power and passion, family and caring, past deeds and their present consequences. In ancestral homes and university laboratories, using ancient knowledge and modern science, from the hills of the Auvergne to the palaces of Venice and beyond, the couple at last learn what the witches discovered so many centuries ago.
Release Date: July 15, 2014
Publisher: Viking
Series: All Souls Trilogy #3
ISBN: #978-0670025596
Genre: Paranormal Fantasy
Format(s): hardcover (576 pages), e-book, audiobook
Book Source: Publisher
Purchase Info:
The Book of Life (All Souls Trilogy #3)
Books in the Series:
A Discovery of Witches by Deborah Harkness (All Souls Trilogy #1) – not reviewed at this time
Shadow of Night by Deborah Harkness (All Souls Trilogy #2)