Today I'm excited to have romance author Maya Banks here at That's What I'm Talking About. Our own Vampbard had the chance to ask Ms. Banks a few questions. Plus, stick around after the interview, for your chance to win a copy of Ms. Banks' latest title, Taking It All.
Welcome to the blog! Your new release, Taking It All, is the third title in your wonderful Surrender Trilogy. Can you share with us which of the three titles was your favorite to write? Which characters did you enjoy the most? Were there any that gave you grief during the writing process?
Taking it All was definitely my favorite and I knew it would be going in because I adore the marriage in jeopardy trope. As far as enjoying characters, Jensen and Kylie were so fun to write but they were also the most difficult.
You write a few different romance subgenres: historical, erotic, and suspense… Do you have a favorite subgenre you prefer to write? What about when you read romance, which is your favorite subgenre (if you have one), and why?
I don't have a favorite because getting to mix it up is what I love MOST about writing. I never get bored because I'm never writing the same thing back to back. It keeps each series fresh for me and I'm always excited and eager to get back to them when it's their turn again.

I don't have a favorite genre. My tastes are eclectic. All I want is a YUMMY romance. If you give me that I don't care what "genre" it's in. I just want an emotionally compelling story.
With several different books and series in motion at once, do you find it hard to keep them all separate? What methods do you use to keep help building each world and keep it all straight?
I touch on this above. It's not hard to keep them separate because they're all very distinct characters and worlds to me. The best part about my job is the ability to write something different every time I sit down at my laptop.
Some authors have boards on Pinterest for their various novels. I see inspiration for various characters, cars, locations pinned. It's part of their writing process. Where do you find your inspiration (and if you use Pinterest or somesuch, are you willing to share the URL?)?
I'm a social media failure. I don't have pinterest or instagram. I'm also ignorant of pop culture and the whole Hollywood thing so I've never based any of my characters on a movie star or celebrity. Each character is born in my head and I build them and their personality from scratch.
The tropes. I think I've read them all in the years I've been reading romance! What are your favorites as a reader? As an author, do you find it difficult to take something that's been used for eons and ensure there's a fresh perspective for readers to connect with?
I adore marriage in jeopardy, friends to lovers, in love with best friend's little sister, amnesia, pregnancy, heroine in jeopardy and growly over protective ALPHA males 🙂
Can you tell us about one of those heart-warming, 'awwww' moments you've had after reading a review (maybe reader mail?) or meeting a reader?
When I receive an email from a reader who gained something from reading one of my books or when I get an email from a reader who experienced the same things as the heroine in one of my books did and they thank me for portraying it realistically it truly warms my heart. Or when I get emails from readers who say they never read before picking up one of my books and now they're reading every romance they can get their hands on. Romance is SUCH a fabulous genre so I'm THRILLED if I can convert a non reader to a voracious one!
As a successful author, what is one (or a few!) things you'd like to share with aspiring novelists?
Just to be patient. Stay true to your voice. Don't let others change your story or write it for you. Stick to your guns always if it's important to you.
Thank you so much for coming by That's What I'm Talking About to visit with us!
About Taking It All: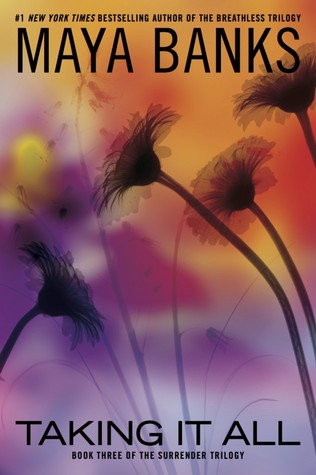 Chessy and Tate have been married for several years. In the beginning, their relationship was everything she wanted. Passionate. All consuming. She offered her submission freely and Tate cherished her gift with a tenderness that made her feel safe. Content. Wanted. And loved beyond all measure. But as the years have gone by, Tate has become more immersed in making his business the success it has become, and Chessy has taken a back seat to his business obligations. Growing unhappier with the status of their once blissful marriage, Chessy knows that something has to give. Or they stand to lose it all
Tate loves his wife. Has always loved her. Providing for her has always been his number one priority. But lately she's seemed unhappy, and he's worried. Worried enough that he arranges for a night together that he hopes will reignite the fire that once burned like an inferno between them.
But a business call at the wrong time threatens everything. Chessy's safety, his concentration, his wife's faith in him as her husband, a man sworn to love and protect her above all else. Gutted with the realization that he's going to lose her—has already lost her—he readies for the fight of his life. Whatever it takes, he'll get her back. And prove to her that nothing is more important than her love. And that if she'll allow him to prove himself one more time, he'll take it all. Everything. But he'll give far more back. Himself. His undying love.
Vampbard's Reviews:
Letting Go (Surrender Trilogy #1)
Giving In (Surrender Trilogy #2)
Taking It All (Surrender Trilogy #3)
About the Author:
Maya Banks is the #1 New York Times and #1 USA Today and bestselling author of the Surrender Trilogy.  Her other chart toppers have included erotic romance, romantic suspense, contemporary romance, and Scottish historical romance.  She lives in the South with her husband, three children and a variety of pets. Visit her online at www.mayabanks.com, www.facebook.com/AuthorMayaBanks, and twitter.com/maya_banks.
Giveaway:
Thank you to the the publisher who is giving away one (1) print copy of Taking It All to one commenter. To enter to win a copy of Ms. Banks' book, complete the Rafflecopter form AND leave a comment at the end of this interview telling us what is your most anticipated read for Fall 2014. This contest is open to U.S. Mailing Residents ONLY. Open to readers, 18 years or older, who are legally allowed to participate in such a contest as allowed by their local laws. All federal, state, local, and municipal laws and regulations apply. Void where prohibited. No purchase necessary. By participating in the contest, participants agree to be bound by the decisions of the contest sponsor. Prize will be delivered by the publisher. I am not responsible for items lost in the mail.
If you have troubles with the Rafflecopter form, please email me at twimom227 (at) gmail (dot) com.