Crave the Night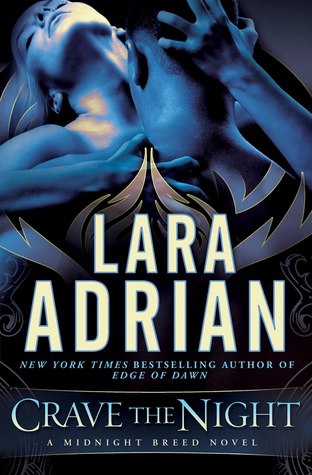 Author: Lara Adrian
Reviewer: Jen Twimom
Rating: B
What I'm Talking About:
Nathan was created and raised for the sole purpose of being a ruthless Hunter. Then at the age of thirteen, he was liberated and brought to live with the Order by his mother. After twenty years with the Order, his primary focus is to protect Breed and mankind from the bad guys, never letting something like feelings get in his way. However, a few days ago, Jordan Gates, a high-class Breedmate socialite, kissed Nathan. Now he can't get her or that kiss out of his mind.
Following Edge of Dawn by only a day or two, Crave the Night continues Ms. Adrian's Midnight Breed series in its new incarnation, a time twenty years in the future when humans live in an uneasy peace with the Breeds. I continue to applaud the author's reinvention of her popular series, by adding new conflicts and developing additional mythology. I am pleased that the uneasiness I had reading the previous novel due to the time jump, dissipated this time around. All of the new, younger characters have become more familiar, and I have started making connections with each.
I really liked Nathan. His character is very much like those Breeds highlighted in the earliest books. He's focused and hard, but when he falls for a woman, it's all the way. Although he thinks that he's "no good" for Jordan, he won't stay away, especially after he gives her a chance to walk away from him. He knows what he wants and goes after it, and I appreciate that.
Jordan Gates is a good fit for Nathan, even though she's conflicted over her feelings. She's grown up in a privileged life, expected to do what her father thinks is best, include mating with a Breed who is safe and proper yet she doesn't love. Everything about Nathan causes Jordan to question her future, and I found her honesty about being scared to diverge from her path very moving. Watching Jordan take that leap off the cliff into the unknown was emotionally exhilarating and rewarding.
The pair are incredibly HOT together! Mmm… a thrilling elevator scene starts things off with a bang. Although during their first time together I felt Nathan's constant reminders to restrain himself a bit distracting, every scene after is smokin' hot. Their chemistry is off the charts.
Besides the romance of Nathan and Jordan is the continuing story of the mysterious Atlanteans. It was revealed in the previous book that the Atlanteans are the longtime yet unknown enemy of the Breed, and they are also the ancestors of Breedmates. After uncovering an Atlantean plot to destroy the Breeds, the Order is working overtime to find out more about this deadly foe. The direction of their investigation takes some interesting turns that have the potential for serious future ramifications. Meanwhile we learn much more about this new threat, and so far I am impressed.
Overall I liked Crave the Night and find it a solid follow up to the previous book. Ms. Adrian is doing a good job developing the new enemy and mythology, while creating bonds between the reader and the younger generation of Breed warriors. Although I found the ending almost too abrupt, or rather that the story is almost too short, and there are times it was slow and repetitive, there are parts of the story that I absolutely loved. I enjoyed the wonderful twists that I should have seen coming but didn't. And I found Nathan and Jordan an excellent and very match. I continue to enjoy the Midnight Breed series and look forward to what the future holds for these warriors.
My Rating:  B, Liked It
About the Book:
Born and raised to be an emotionless killing machine, Nathan is one of the most lethal Breed vampires in existence. A key member of the Order—an elite group of warriors charged with protecting both mortals and vampires—Nathan executes each mission with flawless precision and a total lack of mercy. Now he must pursue a powerful, hidden enemy. But Nathan's hard discipline and training are no match for the fierce pull he feels toward a young woman he has no right to desire—a woman of wealth and high social standing who has long been promised to another Breed male, and who may also prove to be the key to rooting out Nathan's elusive quarry.
Jordana lives a life of glittering privilege as a member of a prominent Breed family in Boston. Surrounded by fine things and fawning admirers, Jordana wants for nothing—until she crosses paths with a dark, intense warrior from the Order and finds herself swept into an impulsive, sizzling kiss that neither of them will forget. As much as she tries to deny her deep feelings for Nathan, Jordana cannot resist the craving to be near him, to break through his forbidding walls and see the man he truly is. But getting close to Nathan will thrust Jordana into a treacherous new world, forcing her to risk all she has and all she knows about herself and her past. And loving this seductive man could be the most dangerous temptation of all.
Release Date: August 5, 2014
Publisher: Delacorte Press
Series: Midnight Breed #12
ISBN: #978-0345532633
Genre: Paranormal Romance
Format(s): hardcover (272 pages), e-book, audiobook
Book Source: NetGalley
Purchase Info:
Crave the Night (Midnight Breed #12)
Reviews in the Series:
Taken by Midnight by Lara Adrian (Midnight Breed #8)
Deeper Than Midnight by Lara Adrian (Midnight Breed #9)
A Taste of Midnight by Lara Adrian (Midnight Breed #9.5)
Darker After Midnight by Lara Adrian (Midnight Breed #10)
Edge of Dawn by Lara Adrian (Midnight Breed #11)
The Midnight Breed Series Companion by Lara Adrian (Midnight Breed Series)
Marked by Midnight (Midnight Breed #11.5)