Guarded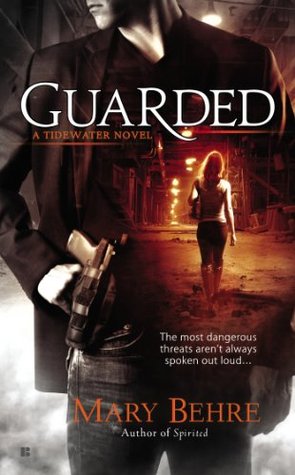 Author: Mary Behre
Reviewer: Una
Rating: B
What I'm Talking About:
The second book in the Tidewater series, Guarded, focuses on Dev and Shelly.  I was intrigued by Dev when we first met him in Spirited.  He was Seth's big and intimidating partner, but I've always loved the tall, strong and silent type.  Dev is all of this and more.  He is also intelligent and sensitive.  I enjoyed learning more about him as Shelly tied him up in knots.
Shelly is Jules's long lost middle sister.  At the conclusion of Spirited, Seth encourages Jules to use Dev's cousins, who own a private security firm, to see if they can locate her lost sisters.  However, it is Shelley who finds Dev.  Shelly is working as a vet in a small town outside of Tidewater and has stumbled onto a mystery.  Remembering Dev from college, she reaches out to him for help in discovering what is happening to the animals in the small zoo in her city.  What at first seemed like a few missing animals turned out to be something much more sinister.
I enjoyed this second offering in the Tidewater series.  It seems that it is a lighter detective suspense story within a romance.  Although the murderer is pretty sinister, it is not deeply gritty or disturbing.  This is a great poolside read, fast and satisfying.  Although I liked the novel, Shelly's constant back and forth on Dev being just a fling or something more was a bit distracting.  Her belief that everyone leaves her so she should not make connections or let people in was a bit much.  I could understand her feelings to an extent, but the fussing in her mind got a bit tired for me.
I absolutely loved Dev.  He completely made the story for me.  His passion and patient nature hooked me.  Although they did stray from police standard procedures in this one (like they did in the previous novel), it was more apparent that they knew what they were doing and wasn't as far-fetched or blatant as in Spirited.  It was much more believable in Guarded.  I especially enjoyed the introduction of Ryan and Ian, Dev's cousins.  I hope we get to see more of them as they were funny and intriguing (and cute too!).  Although it was easy to figure out who the antagonist was, the motives were not as easy to figure out without the wrap up at the end.
The Tidewater series will be one of those series you can take with you to the pool or beach and whittle the time away.  I liked the journey of Shelly and Dev and look forward to the next novel where I hope we meet the lost youngest sister, Hannah.  If you are looking for a light detective romance story with a twist of paranormal, you just might want to try this series.
My Rating:  B, Liked It
About the Book:
She's given up on finding love…
Veterinarian Shelley Morgan has always preferred animals to humans, and not simply because she can communicate with them psychically. Unlike most people she's known, animals have never broken her heart. But after six months in her new town, some of her favorite four-legged companions begin disappearing from the local zoo. Determined to track down the animals and their thief, the telepathic vet decides to investigate, unknowingly delving into a deadly mystery…
He's ready to make her heart go wild…
Although his bear-like physique has been an advantage in the Tidewater Police Department, Dev Jones's size often intimidates people. Only Shelley has seen past his massive build to the intelligent man inside, but that was years ago. So when she contacts him requesting his help to solve a series of animal kidnappings, he's eager to reconnect with her. But the thefts escalate to murder and all the evidence points to Shelley as the killer, and Dev faces a devastating choice: forsake his career or risk losing the woman he's grown to love…
Release Date: August 5, 2014
Publisher: Berkley
Series: Tidewater #2
ISBN: #978-0425268629
Genre: Paranormal Romance
Format(s): Paperback (320 pages), e-book
Book Source: Publisher/NetGalley
Purchase Info:
Guarded (Tidewater #2)
Reviews in the Series:
Spirited by Mary Behre (Tidewater #1)