Taking it All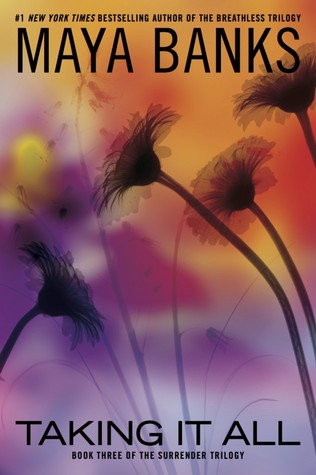 Author: Maya Banks
Reviewer: VampBard
Rating: A+
What I'm Talking About:
What can be more beautiful than a man willing to fight for a love that is as important to him as life itself? Nothing. Absolutely nothing. Maya Banks has written a spectacular conclusion to the Surrender Trilogy. It's been a long time since I've read something as poignant and real that deals with marriage as the conflict in this title. Whether the marriage will survive. Whether both parties are willing to fight to keep their marriage. And whether a marriage can survive a serious breach of trust.
I'm not going to lie. I have eagerly anticipated Taking it All this summer. I've been looking at my reading schedule and counting down the books until I could finally glom on to it. After reading the prior titles in the trilogy, I was giddy about reading Chessy and Tate's story. Maybe a little TOO eager. I devoured it in a day. I even went to work and slept a little. Even though I really didn't want to. Damn responsibilities are getting in the way of my reading.
First things first, even though you could probably read Taking it All without having read the previous titles in the Surrender Trilogy, you probably don't want to. Knowing the other characters and being able to appreciate their changes are part of what makes this novel have such an impact. Joss and Dash, Kylie and Jensen – they're all part of this story, and those that haven't read the first two titles will be missing the importance of some of the things these characters communicate to Chessy regarding Tate. The obvious growth of these characters, primary in previous titles and secondary to this one, are major plot points for the over-all arc of the series. So, read the first two books first. They are excellent!
Talking about Chessy and Tate is…difficult. Anyone that has been through a rough break-up, or simply felt neglected in a marriage will be able to identify with Chessy's plight. Ms. Banks doesn't sugar-coat it, and she doesn't simply wave a magic wand to make things all better between the couple. They both have to work for it. Especially Tate. I think that a significant part of this story was set-up in previous books, and makes the build-up more intense for the reader than someone simply picking up Taking it All. In the previous titles, we learned that Chessy wasn't happy, but she was willing to put her feelings aside because Tate was working hard to build a financially secure future for them, and their family. She's longed for a baby, and the timing has never been right (like it ever is…).
What made this story riveting for me was the way Ms. Banks gave Chessy a steel backbone. Even though she is Tate's submissive – in all aspects of her life – the girl grew a set and decided that it was time her needs were met. And while I was cheering Chessy on, I felt so badly for Tate. And who wouldn't? The man was focused on his business, building a name for himself in the financial planning field, and creating a financial safety net for his family. Unfortunately, he neglected his duties as a husband and a Dominant in the process. I think Chessy let her submissive nature suppress her feelings about the situation much too long, but in reality, Tate should have known better as he was Dominant in every aspect of their life. Until he wasn't. I think it left Chessy feeling lost and floating in the ether, looking for an anchor. And when she couldn't handle the floating, anchorless feeling, she snapped. And rightfully so.
The first major conflict was over Tate's neglect of Chessy's feelings. Independently, I don't think this would have been enough to carry the story. But, it was important for Chessy and Tate to begin the healing process, and move forward in their marriage. But, I guess that's why Ms. Banks added the H-U-G-E conflict at The House. I. Can't. Even. I think I was sobbing and Mr. VampBard almost took my Kindle away at that point. I couldn't believe Tate. I couldn't believe that he behaved the way he did. And the fact that his focus wasn't on Chessy was reprehensible. To be honest, I wouldn't have given him another chance. A breach of trust of that magnitude would have shattered me, and I'm pretty strong.
But, they managed to work it out. It wasn't easy, and it wasn't pretty. But they did work it out. That's when I thought I was going to have to go all Misery on Ms. Banks. Yup. I was – for a few minutes – ready to insist on a re-write. Or I'd have had to sit down and write my own ending just to get the satisfied deep sigh when I finish a series that's wrapped up nicely.
No need. Ms. Banks delivers, even though she keeps readers on the edge of their seat until the very end.
Chessy and Tate's story is certainly hot with BDSM elements, but I think it's a story that's more about their relationship. Which is what a contemporary erotic romance should be about. It can't be all hot sex all the time. Life isn't like that, and it insults readers to just deliver one sex scene after another without having the connective tissue necessary to engage readers with the story. I certainly thing that Ms. Banks has penned a fabulous conclusion to the Surrender Trilogy, although I'm going to miss these characters and want to know more about them as they continue to grow as couples and their relationship goes through changes as they have babies. Well done, Ms. Banks. Well done.
My Rating: A+ Personal Favorite
About the Book:
Chessy and Tate have been married for several years. In the beginning, their relationship was everything she wanted. Passionate. All consuming. She offered her submission freely and Tate cherished her gift with a tenderness that made her feel safe. Content. Wanted. And loved beyond all measure. But as the years have gone by, Tate has become more immersed in making his business the success it has become, and Chessy has taken a back seat to his business obligations. Growing unhappier with the status of their once blissful marriage, Chessy knows that something has to give. Or they stand to lose it all
Tate loves his wife. Has always loved her. Providing for her has always been his number one priority. But lately she's seemed unhappy, and he's worried. Worried enough that he arranges for a night together that he hopes will reignite the fire that once burned like an inferno between them.
But a business call at the wrong time threatens everything. Chessy's safety, his concentration, his wife's faith in him as her husband, a man sworn to love and protect her above all else. Gutted with the realization that he's going to lose her—has already lost her—he readies for the fight of his life. Whatever it takes, he'll get her back. And prove to her that nothing is more important than her love. And that if she'll allow him to prove himself one more time, he'll take it all. Everything. But he'll give far more back. Himself. His undying love.
Release Date: August 5, 2014
Publisher: Berkley
Series: Surrender Trilogy #3
ISBN: 978-0425272985
Genre: Contemporary Erotic Romance
Format(s): paperback (320 pages), e-book, audiobook
Book Source: Publisher/NetGalley
Purchase Info:
Taking it All (Surrender Trilogy #3)
Reviews in the Series:
Letting Go by Maya Banks (Surrender Trilogy #1)
Giving In by Maya Banks (Surrender Trilogy #2)