Rock Addiction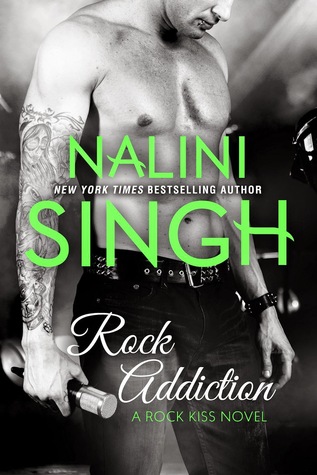 Author: Nalini Singh
Reviewer: Jen
Rating: A
What I'm Talking About:
Molly Webster has lived her entire adult life in fear of being reckless or worse, becoming addicted to love. At sixteen, after her "family-values" politician father was caught in a compromising situation, Molly's life spun out of control. Living in the spotlight was not for her, and she became determined to live a quiet, ordinary life. So when mega rock star Zachery Fox shows interest in Molly, she doesn't know how to make her feelings fit into her orderly life.
Fox, the lead singer for the world famous band, Schoolboy Choir, wants Molly completely. From the moment he laid eyes on her and realized her genuine nature, he knew she was the woman for him. Now he's determined to find a way to be with Molly and get her to live the life she's been afraid to experience.
I'm not going to lie… I really, really enjoyed Rock Addiction! There was just something about the book that drew me in and kept me glued to the pages. And the characters stuck with me days after I finished reading it. I'd get a smile on my face just thinking about Molly and Fox. Rock Addiction is a (mostly) light-hearted, happy tale with some knock-your-boots-off sex scenes.
One major factor that contributes to my complete enjoyment of this book is the characters. Ms. Singh creates such amazing, multifaceted characters that right from the beginning, I found myself attached. I cared what happened to them. I ached because they ached. I worried because they worried. While both Molly and Fox, as well as the numerous supporting players, are not the average Joe's you'd meet in town, they have many qualities that makes them feel genuine and everyday. They may have problems, but they find ways to work through them and move forward.
Which brings me to another reason I adored Rock Addiction… Life isn't necessarily easy for any of the characters, but Molly and Fox take the time to work through every issue that comes their way. I appreciate that through everything, the characters continue to be themselves, experience powerful emotions, deal with personal demons, etc., but talk to each other and work it out. Sure, they had their arguments, but they were honest with one another and determined to make it work. They fought through the rough and didn't break. We watched them truly grow and nurture a relationship based on mutual trust and affection. It may be a bit idealist, but I didn't care – it's great escapism!
The story is very different from Ms. Singh's mainstream paranormal romance series, and enjoyable in different ways. But the story still has much of what makes Nalini's writing so wonderful… strong, well-developed characters, romance between equal partners, happy/healthy relationship, and sensual sex. Unlike her other series, however, there is a lot of sex, but I never felt it was a book based solely on sex. The sex is as much a part of their relationship and how they deal with "stuff" as music is.
In the end, I really enjoyed Rock Addiction. I was completely hooked by the story and couldn't put down my Kindle. Although everything was a bit easy at times for the couple – I liked that the author used adversity to have the couple grow stronger instead of breaking them down first and then building them back up again. I feel Ms. Singh did a great job establishing Molly and Fox and keeping their actions within the scope of the characters she created. They have flaws, but instead of allowing those flaws to tear them down, she uses them as tools to help each grow beyond the fears and hurt that once defined them.
I enjoyed almost every moment of the story, and I found the set up for future titles promising. I adored the story for the characters and romance, the sex and the fights. Sure it's not super realistic, but it's a great romantic getaway.
My Rating:  A, Loved It
About the Book:
A bad boy wrapped in a sexy, muscled, grown-up package might be worth a little risk… 
Molly Webster has always followed the rules. After an ugly scandal tore apart her childhood and made her the focus of the media's harsh spotlight, she vowed to live an ordinary life. No fame. No impropriety. No pain. Then she meets Zachary Fox, a tattooed bad boy rocker with a voice like whiskey and sin, and a touch that could become an addiction. 
A one-night stand with the hottest rock star on the planet, that's all it was meant to be… 
Fox promises scorching heat and dangerous pleasure, coaxing Molly to extend their one-night stand into a one-month fling. After that, he'll be gone forever, his life never again intersecting with her own. Sex and sin and sensual indulgence, all with an expiration date. No ties, no regrets. Too late, Molly realizes it isn't only her body that's become addicted to Fox, but her heart…
Release Date: September 11, 2014
Publisher: self-published
Series: Rock Kiss #1
ISBN: #978-1937776992
Genre: Contemporary Romance
Format(s): paperback (392 pages), e-book
Book Source: NetGalley
Purchase Info:
Rock Addiction (Rock Kiss #1)