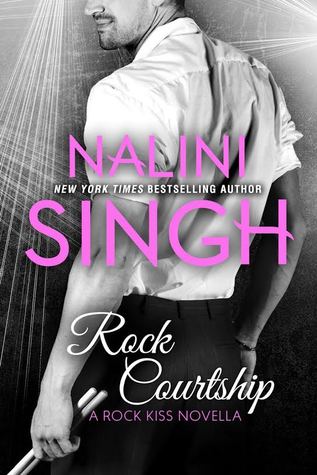 Rock Courtship
Author: Nalini Singh
Reviewer: Jen
Rating: B+
What I'm Talking About:
Rock Courtship is a novella in the Rock Kiss series which parallels in time to the first book of the series, Rock Addiction. It tells the behind-the-scenes love story of School Boy Choir drummer, David, and the band's publicist, Thea. The pair were introduced and in the peripheral of Molly (Thea's sister) and Fox's story.
David has LONG lusted after and pined for Thea from afar. He sat and waited through her horrible engagement to her ex, and gave her time to grieve. The pair were close friends, and David has always wanted more. After the appropriate amount of time, he asked Thea out for dinner and she turned him down COLD.
Thea never dates rocks stars or her clients, even though David means so very much to her. But when he emails her an intellectual memo of reasons she should date him, Thea feels her barriers breaking for this man who holds the power to crush her heart.
The novella is sweet and mostly void of lengthy conflict. It fills in the details about a few incidents that were brushed over in Rock Addiction. We see how David and Thea deal with their own ghosts and work as a team to fight for their mutual love. Although the conflicts are not plentiful, the author uses them to help the pair grow closer together, rather than drive them further apart.
In the end, Rock Courtship is a quick, sweet love story with a smallish, yet decent conflict and resolution. The romance is hot and there are a couple of smokin' smex scenes. Like its counterpart, it is not necessarily realistic, but I enjoyed Thea and David's tale and my return to the Rock Kiss world.
My Rating:  B+ Liked It A Lot
About the Book:
What happens when the Gentleman of Rock decides to play dirty?
A drummer for the hottest rock band on the planet, David has a single, powerful weakness: Thea, the band's publicist and the woman who steals his breath away with her every move.
Only problem is, Thea doesn't date clients–or musicians. Emotionally scarred by a cheating ex, she's not about to risk her heart with a man who has groupies buzzing around him like flies. Even if his sexy smile ties her up in knots.
What she doesn't know is that David is a one-woman man…and he's madly in love with her. David's determined to prove he's worth the risk, and willing to court her, step by exquisite step. Thea's about to discover just how long and hard this handsome drummer can play.
Release Date: September 30, 2014
Publisher: self-published
Series: Rock Kiss #1.5
ISBN: #978-1625175397
Genre: Contemporary Romance, novella
Format(s): e-book
Book Source: NetGalley
Purchase Info:
Rock Courtship (Rock Kiss #1.5)
Reviews in the Series:
Rock Addiction by Nalini Singh (Rock Kiss #1)