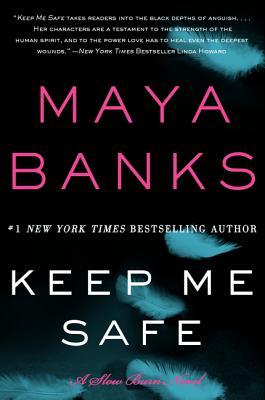 Keep Me Safe
Author: Maya Banks
Reviewer: VampBard
Rating: A
What I'm Talking About:
Once again, Maya Banks brings it! The Slow Burn series is off to a fabulous start with Keep Me Safe. This page-turner is full of everything I love in romantic suspense. A fabulous alpha male, a secretly super strong female lead, and a bunch of creepy stuff going on to keep me on the edge of my seat.
Here's the thing, it's really hard for me to review romantic suspense in general. I'm always worried about being spoiler-ish. Especially something that's such a magnetic read. But, I'm going to give it a shot….
I've read horror/suspense since I was ten. I started with Stephen King and Dean Koontz. I liked the creep-factor, and how the stories kept me on the edge-of-my-seat. Ms. Banks's Keep Me Safe is of similar caliber. But it adds the romance element. The chemistry between Ramie and Caleb is intense, tender, and poignant. The plot arc is driven by the suspense—we get Mr. PsychoCreeper that is pivotal to the plot. This dude has some special 'gifts' that really got into my head, and they also affected Ramie. Which creeped me out even more. I'd almost sub-classify this title as a psychological suspense because I was so emotionally affected by these almost-paranormal elements that I'm hedging on the genre of this book.
Ramie got to me on a purely emotional, protective level. She's like one of the kids I work with. I am a teacher in a residential placement facility. Wards of the State, abuse/neglect. Kids through multiple foster homes with nowhere else to go. Ramie could have been one of my students, and that got to me. Every kid has special gifts and talents. Ramie's happened to be something that no one understood, and no one was willing to take the time to understand. I see this EVERY. DAY. No one was her champion. Until Caleb. Eventually. This kick-ass chick can track down killers. The bummer about her gift is that she experiences the pain of the victim when she's connected. And in helping Caleb's sister, Ramie suffered. But, she's not just haunted by the victims she's helped retrieve. She's emotionally stalked by 'the one that got away'. And he's psychotic (in my in-no-way-professional opinion).
Caleb was an unlikely hero in Keep Me Safe, in my opinion. He starts off as a huge d-bag, forcing Ramie to help him locate his missing sister. I was super irritated at the beginning of this book. I thought he was a selfish jerk. I completely sided with Ramie and her choice to not help him find his missing sister. However, there was a serious connection between Ramie and Caleb. One that Caleb wasn't willing to let go. He vowed to find her and make things right for forcing Ramie to help locate his sister. I don't think he was really prepared for how intensely he would feel about Ramie once he found her, either. What made me eventually like Caleb was how gentle and patient he was. It seemed like he was super in control of his alpha-maleness (if that wasn't already a term, it is now). By the time we reached the end, I was totally Team Caleb. I appreciated his personality, his devotion, and most of all, his compassion.
Love romance? Check. Love suspense? Check. Love psych-thrillers? Check. A hint of paranormal stuff? Mmmhm. Fabulous start to Maya Banks's new Slow Burn series. Can't wait for the next book.
My Rating: A, Loved It
About the Book:
When Caleb Devereaux's younger sister is kidnapped, this scion of a powerful and wealthy family turns to an unlikely source for help: a beautiful and sensitive woman with a gift for finding answers others cannot.
While Ramie can connect to victims and locate them by feeling their pain, her ability comes with a price. Every time she uses it, it costs her a piece of herself. Helping the infuriatingly attractive and impatient Caleb successfully find his sister nearly destroys her. Even though his sexual intensity draws her like a magnet, she needs to get as far away from him as she can.
Deeply remorseful for the pain he's caused, Caleb is determined to make things right. But just when he thinks Ramie's vanished forever, she reappears. She's in trouble and she needs his help. Now, Caleb will risk everything to protect her—including his  heart… 
Release Date: October 7, 2014
Publisher: Avon / Harper Collins
Series: Slow Burn #1
ISBN: 978-0062312464
Genre: Romantic Suspense
Format(s): paperback (304 pages), e-book, audiobook
Book Source: Edelweiss
Purchase Info:
Keep Me Safe (Slow Burn #1)
Giveaway:
Thank you to the the publisher who is giving away one (1) print copy of Keep Me Safe to one commenter. To enter to win a copy of Ms. Bank's book, complete the Rafflecopter form AND leave a comment at the end of this review telling us which is your favorite genre to read. This contest is open to US Mailing Residents ONLY. Open to readers, 18 years or older, who are legally allowed to participate in such a contest as allowed by their local laws. All federal, state, local, and municipal laws and regulations apply. Void where prohibited. No purchase necessary. By participating in the contest, participants agree to be bound by the decisions of the contest sponsor. Prize will be delivered by the publisher. I am not responsible for items lost in the mail.
If you have problems with the Rafflecopter form, please email me at twimom227 (at) gmail (dot) com.