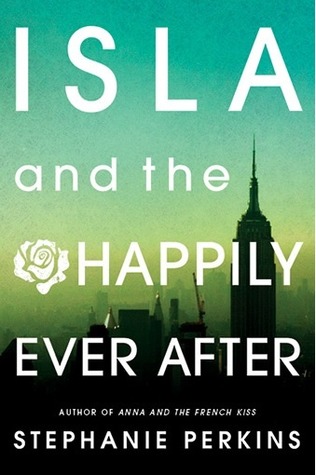 Isla and the Happily Ever After
Author: Stephanie Perkins
Reviewer: Nima
Rating: A+
What I'm Talking About:
If you are an unapologetic hopeless romantic, this is your book.  Isla and the Happily Ever After is all about that gut-wrenching, turn your heart inside-out, I may never eat again if I can just stay in this love bubble with you kind of love.  I loved every minute of it.  I read it straight through.  Seriously, I think if I had had to stop mid-book, it would have been physically painful.
Isla and the Happily Ever After, book three in Perkins unnamed trilogy, is told exclusively from Isla's point of view.  For that reason we have to forego some of the details and depth that go with having additional perspectives.  It also means there are no sub-plots that don't involve Isla.  It's a purer, contiguous read in that sense.  I only missed them in a few places, but it didn't take away from my enjoyment of the journey or the conclusion.  In fact, during a major plot crisis, because we don't know what's going on with the other characters, we genuinely feel Isla's anxiety amplifying the overall conclusion.
Both of the main characters, Isla Martin and Josh Wasserstein, were on the periphery in the first book of the series, Anna and the French Kiss.  They were little more than set dressing at the time.  It's now three years later and Anna, St. Claire, and Meredith have all graduated leaving Josh alone to finish his senior year.  Isla, of course, has been in love with Josh since they were both freshman, and outsider looking on at him and his friends.  This year, their senior year, is the year they finally come together and make the fantasy of their love into a reality.
That's not say they don't have issues, because they're seventeen and what high school senior doesn't have issues?  It's a life season full of possibilities.  That can excite and scare all at the same time and Isla and Josh are no exception.  Don't try to read them as the adults they haven't become yet.  Being a more (ahem) mature adult myself, it was frankly a breath of fresh air to be so completely in the moment from chapter to chapter.
Perkins pulls more into the story from the secondary characters than in past novels.  Kurt, Isla's best friend, is an enjoyable addition.  Living with a high functioning form of autism, not something I've seen represented in a significant character in any fiction before, Kurt is wonderfully blunt in a story that could easily be so saccharine that it produces cavities.  While not autistic, Isla's little sister Hattie serves a similar purpose.  At fourteen, she is acerbic and especially self-centered, popping up where and when she's least wanted.
The books do not require sequential reading, but I recommend it for small nuances that are just fun to see from book to book. I loved returning to scene of Anna and St. Claire's love story at the American School in Paris.  Although this is a YA book, it does have two, brief sex scenes and is probably not appropriate for those under seventeen, the ages of the main characters.  Pick up a copy, clear your schedule, and have some chocolate on hand to keep up your stamina.  You will not stop until there's a happy ending—good thing it's a promise in the title.
My Rating: A+ Personal Favorite
About the Book:
Hopeless romantic Isla has had a crush on introspective cartoonist Josh since their first year at the School of America in Paris. And after a chance encounter in Manhattan over the summer, romance might be closer than Isla imagined. But as they begin their senior year back in France, Isla and Josh are forced to confront the challenges every young couple must face, including family drama, uncertainty about their college futures, and the very real possibility of being apart. 
Release Date: August 14, 2014
Publisher: Dutton Juvenile
Series: Anna and the French Kiss #3
ISBN: # 978-0525425632
Genre: Contemporary YA Romance
Format(s): hardcover (352 pages), e-book, audiobook
Book Source: Purchased with my own funds
Purchase Info:
Isla and the Happily Ever After (Book #3)