Jen: Today I have the honor of interviewing one of my favorite authors, Ms. Jennifer Estep. I've had the pleasure of meeting Ms. Estep a few times at various cons, and she a wonderful person with whom to hang out and visit . Welcome to That's What I'm Talking About, Jennifer!
Jennifer: Thanks for hosting me on your blog again. I appreciate it! And it's always fun to hang out with you and talk about books, whether it's online or in person. 🙂
Jen: We are here celebrating the upcoming release of Black Widow, the twelfth title in your amazing Elemental Assassin series. Will you share with us a little about the latest happenings for Gin and her gang?
Jennifer: My Elemental Assassin series focuses on Gin Blanco, an assassin codenamed the Spider who can control the elements of Ice and Stone. When she's not busy killing people and righting wrongs, Gin runs a barbecue restaurant called the Pork Pit in the fictional Southern metropolis of Ashland. The city is also home to giants, dwarves, vampires, and elementals – Air, Fire, Ice, and Stone.

At the beginning of Black Widow, Gin is waiting for her new nemesis, Madeline Monroe, to strike. Gin expects Madeline to send assassins after her, but Madeline has a different, dastardly plan in mind for Gin. So Gin is trying to play catch-up and figure out what Madeline's endgame really is for much of the book.

And, of course, since this is an Elemental Assassin book, there is a lot of action, adventure, danger, and magic, along with some romance.
Jen: As you know, I fretted over reading this one, worried that Gin's world was coming to an end. But now we know there will be more books in your Elemental Assassin series. Can you share with readers (without spoilers) what is up next for Gin? Do you have a set number of books planned for the series?
Jennifer: I'm happy to say that I will be writing at least two more books after Black Widow. That will bring the series total up to 14 books.

Spider's Trap, the 13th book, is tentatively scheduled to be published in August 2015, with the 14th book tentatively scheduled for January 2016.

In Spider's Trap, Gin will be dealing with the fallout of what happens in Black Widow.

I don't really have a set number of books planned at this time. I tend to think in terms of story arcs, and so far, one arc has been leading to another for me and Gin. I really love writing the series and spending time with Gin, Finn, Owen, and the rest of the gang. So as long as I keep dreaming up new trials and tribulations for Gin and as long as readers keep enjoying the series, I'll keep writing the books.
Jen: OMG! Yea!! But why do I have to wait so long?!
I absolutely loved Black Widow (review coming this afternoon) and felt it is probably the strongest book of the series. How do you find ways to keep the series so fresh after so many books? Where do you look for inspiration?
Jennifer: Thanks! I appreciate that. Black Widow was definitely one of the most fun books in the series for me to write. I love writing fight scenes, and there's so much action in the book. I really put Gin through the wringer in this one. ☺

Whenever I start writing a new Elemental Assassin book, I always try to think of new things – new bad guys for Gin to battle, new characters to cause trouble, new places in Ashland to take readers, new ways for Gin and the bad guys to use their magic/powers.

I usually think about the fight scenes too. What can I do that I haven't done before? How can Gin get into trouble and back out again? So it's thinking about all of those things and more that helps me to hopefully keep the series fresh and interesting for new and longtime readers alike.
Jen: As you know, we all love Gin and want her to come cook for us. What are your favorite Gin-inspired food items? Have you considered making a cookbook?
Jennifer: LOL. I want Gin to come cook for me too! I like to bake, and I love comfort food, so I always enjoy writing about Gin making an ooey, gooey, decadent dessert or some warm, hearty dishes, like fried chicken, mashed potatoes, and mac and cheese.

I get the cookbook question a lot, but I don't actually have recipes for all the dishes that Gin makes. Many of them (like Fletcher's secret barbecue sauce) exist only in my imagination or are just things that I think would be good to eat. So I don't have any plans to do a cookbook.
Jen: I'm also very excited for your new series coming in 2015. Would you like to give us a little teaser about the Black Blade series?
Jennifer: Thanks! I appreciate that. My Black Blade young adult urban fantasy series will kick off with Cold Burn of Magic in May 2015. As of right now, there will be three books in the series.

Cold Burn of Magic focuses on Lila Merriweather, a 17-year-old thief who lives in Cloudburst Falls, West Virginia, a town dubbed "the most magical place in America." Tourists come from around the world to tour all the magic-themed shops and attractions, as well as see monsters like tree trolls, copper crushers, and more in their natural habitats.

Lila has a Talent for sight, along with transference magic — in other words, magic makes her stronger. To survive, she does odd jobs for her pawnbroker friend. Lila also does her best to stay off the grid and avoid the Families — or mobs — who control much of the town. But when she saves a member of the Sinclair Family during an attack, Lila finds herself caught in the middle of a brewing war between the Sinclairs and the Draconis, the two most powerful Families in town.

So basically, the series will feature magic, monsters, and mobsters. I hope that folks enjoy it.
Jen: With all the writing you do, do you find time to enjoy reading a book or two? What  are your favorite genres? Have you read any good books lately that you'd like to share?
Jennifer: I don't have nearly as much time to read for fun as I would like. Sometimes, after reading and re-reading my own books so many times for revisions, edits, etc., all I want to do is veg out in front of the TV.

I read pretty widely – all kinds of romance and fantasy, young adult, mysteries, spy thrillers, heist books, and more.

Since I'm almost always working on one of my books, I tend to read in other genres than what I'm writing at the time. For example, I usually don't read urban fantasy while I'm working on an Elemental Assassin book.

Because of that, I tend to read a lot of contemporary romance. One of my all-time favorite books in that genre is Sugar Daddy by Lisa Kleypas. I really like that one and the rest of her Travis series.

Lately, I've been reading a lot of epic fantasy young adult books. Earlier this year, I read Stolen Songbird by Danielle L. Jensen, which is about an aspiring singer who gets kidnapped and taken to an underground city in hopes of breaking a curse. It's sort of like Beauty and the Beast, but with trolls.

I also have several holiday romances in my TBR pile that I'm looking forward to reading over the next few weeks.
Jen: Jennifer, thank you so much for taking the time to stop by That's What I'm Talking About. It has been a true pleasure!
Jennifer: Thanks for hosting me. I appreciate it. Happy reading, everyone! 🙂
 About Black Widow:
With wicked Fire elemental Mab Monroe long gone, you'd think I could finally catch a break. But someone's always trying to take me down, either as Gin Blanco or my assassin alter-ago. Now along comes the Spider's new arch-nemesis, the mysteriously named M. M. Monroe, who is gleefully working overtime to trap me in a sticky web of deceit.
The thing is, I'm not the only target. I can see through the tangled threads enough to know that every bit of bad luck my friends have been having lately is no accident—and that each unfortunate "coincidence" is just one more arrow drawing ever closer to hitting the real bulls-eye. Though new to Ashland, this M. M. Monroe is no stranger to irony, trying to get me, an assassin, framed for murder. Yet, as my enemy's master plan is slowly revealed, I have a sinking feeling that it will take more than my powerful Ice and Stone magic to stop my whole life from going up in flames.
About the Author: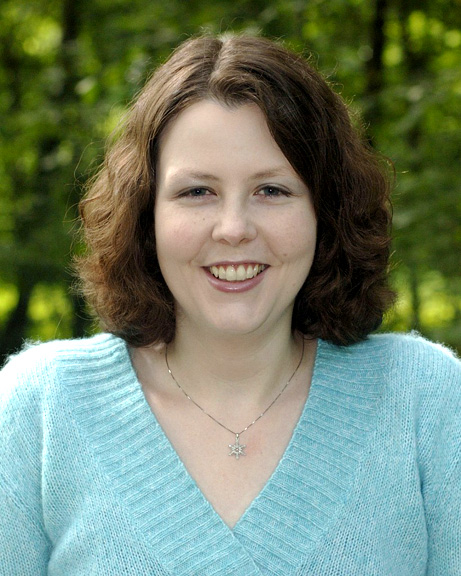 Jennifer Estep is a New York Times bestselling author, prowling the streets of her imagination in search of her next fantasy idea.
Jennifer has worked as a features writer and page designer for a daily newspaper and has more than 10 years of journalism experience. She's a member of Romance Writers of America, Science Fiction and Fantasy Writers of America, and other writing groups.
Jennifer's books have been featured in Cosmopolitan, Entertainment Weekly, Southern Living, and a variety of other publications. You can follow her on Facebook, Goodreads, and Twitter.
Jennifer's books are available in print, audio, and e-book formats from a variety of retailers, including the following: Amazon / Barnes & Noble / Books-A-Million / iTunes / Kobo / Audible / Brilliance Audio
Giveaway:
To celebrate the upcoming release of Black Widow, Jennifer is generously donating a copy of both Poison Promise AND Black Widow to giveaway to one (1) lucky commenter. In order to enter the giveaway, please use the Rafflecopter form AND leave a comment letting us know if you could have one elemental magic power, which would you pick? (I'd probably go with air, but maybe stone…) The giveaway is open during the time specified on the Rafflecopter form. Winner(s) chosen at random from all eligible entries. This contest is open to US Mailing Addresses ONLY, where not prohibited by law. Open to participants, 18 years or older, who are legally allowed to participate in such a contest as allowed by their local laws. All federal, state, local, and municipal laws and regulations apply. Void where prohibited. No purchase necessary. By participating in the contest, participants agree to be bound by the decisions of the contest sponsor. Prize will be delivered by the author. This blog, its reviewers, and the owner are not responsible for items lost in the mail. By entering this giveaway, participants agree to abide by these terms.
NOTE: My comment section has been wonky. I do get the comments, even if they don't post right away. But if you are concerned, please send me an email at twimom227 (at) gmail (dot) com.