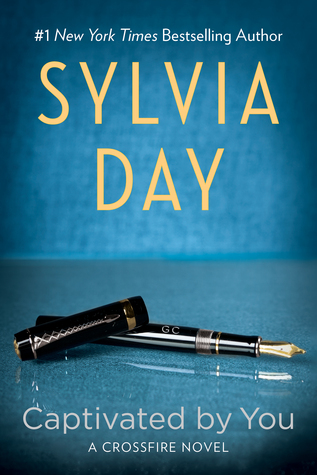 Captivated by You
Author: Sylvia Day
Reviewer: VampBard
Rating: D
What I'm Talking About:
I knew what I was getting into when I chose to read Captivated by You by Sylvia Day. To be honest, I'm not a quitter. Once I start a series, I read it through until the end. Unless something happens that really irritates me. With that said, I'm breaking up with the Crossfire series, which kills my slightly obsessive-compulsive need to finish something I've started.
I wanted to really like this book, and that especially holds true for Captivated by You. However, the only reason I finished this title was in the hope that there'd be a big reveal at the end that would keep me entrenched in the series. To be honest, I think that this entire book could have been done in 100 pages or less. There wasn't that much plot happening and wasn't a lot of development that happened with the characters to warrant 350-plus pages.
What I liked: I liked seeing Eva and Gideon again. Initially. I liked revisiting the supporting characters. I liked seeing Eva continue to be kick-ass, for the most part.
What annoyed me: the story really went nowhere. The plot arc was minimally progressed, and I felt that the words were gratuitous—that I had four hours of my life that I'd never get back. Eva and Gideon—especially Gideon—irritated the hell out of me by the end of the book. The character seemed even more whiny than in the previous book. I UNDERSTAND broken. Hell, life hasn't been picture-perfect for anyone. But a billionaire should get his act together and work through his issues. Not be the 'I am an island' guy. Especially when he has something to strive for—being the man he wants to be for Eva. I don't get the motivation to not work through his issues, especially when it means he can't sleep in bed with Eva—supposedly the love of his life, the one that makes him whole.
The side stories—Megumi, Mark & Steven, Carey, and Gideon's exes—seemed superficial and really had no resolution, no change in the way things were happening. And nothing that really moved the plot forward, especially for Gideon.
Don't get me wrong, Ms. Day is a wonderful author. Her way with words draws the reader in, which is probably the reason I actually finished Captivated by You. Unfortunately, skillful prose isn't enough to keep me reading the Crossfire series. I'm sad to break up with Gideon and Eva, but I don't really think I can handle one more disappointing book in their world.
My Rating: D, Not A Big Fan
About the Book:
Gideon calls me his angel, but he's the miracle in my life. My gorgeous, wounded warrior, so determined to slay my demons while refusing to face his own.
The vows we'd exchanged should have bound us tighter than blood and flesh. Instead they opened old wounds, exposed pain and insecurities, and lured bitter enemies out of the shadows. I felt him slipping from my grasp, my greatest fears becoming my reality, my love tested in ways I wasn't sure I was strong enough to bear.
At the brightest time in our lives, the darkness of his past encroached and threatened everything we'd worked so hard for. We faced a terrible choice: the familiar safety of the lives we'd had before each other or the fight for a future that suddenly seemed an impossible and hopeless dream…
Release Date: November 18, 2014
Publisher: Berkley
Series: Crossfire #4
ISBN: 978-0425273869
Genre: Contemporary Romance
Format(s): paperback (368 pages), e-book, audiobook
Book Source: Publisher
Purchase Info:
Captivated By You (Crossfire #4)
Reviews in the Series:
Bared to You by Sylvia Day
Reflected in You by Sylvia Day
Entwined with You by Sylvia Day