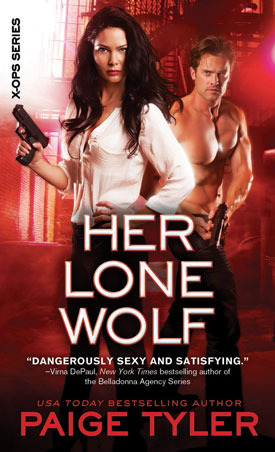 Her Lone Wolf
Author: Paige Tyler
Reviewer: Gikany & Una
Rating: B-
What We're Talking About:
Her Lone Wolf is the follow-up novel to Her Perfect Mate, focusing on Clayne, the quick tempered wolf shifter that seems to be a thorn in everyone's side.  Though Gikany and Una were interested in his story – suspecting that the prickly exterior was due to the loss of his previous partner, the story was not what we were expecting.
Firstly, we liked Danica and Clayne, they seem an excellent match for each other.  She is pretty tough and holds her own well without being intimidated by Clayne, whose gruffness and size overwhelms most everyone else.  The animosity between them at first was understandable from Clayne, but from Danica, it was surprising, since she was the one who left and we do not find out until much later why.  Her anger felt oddly out of place to us.  Yet once that was revealed, having the object of your heart's desire so close but impossible to touch is brutal.  Experiencing their off the charts chemistry explained so much of why Clayne acted the way he did in the previous novel.  It must be agony to live with your heart gone.  His love for Danica was humbling in its purity.
The nature of the case that Danica and Clayne are working together was intriguing and we enjoyed this detective drama, overall.  The suspense was good in both the case as well as between Clayne and Danica.  It reminded Gikany and Una of the detective shows on television.  Watching our heroes as they try to zero in on the culprit, hoping to prevent the next victim from succumbing to the serial killer was nail-bitingly gripping.  Just when you think the case is solved, a twist occurs, changing the game.  Though we felt it was a little contrived, it was tension ridden until the end.
We did have one pet peeve, however. Through most of the story it feels as if the reason Danica upped and left Clayne was dangled like a carrot in front of our noses.  We understand when there are plot points that need to come later or explanatory backstory.  It is a useful technique for building suspense and tension.  But it is very frustrating when as a reader you know that main character is keeping something from you.  That deliberate refusal in the narrative to share was a thorn in our side.  With Her Lone Wolf, the reason why Danica left is a tease.  We know that she left for a very specific reason – that it was a sacrifice for her to walk away, but that reason is hinted at from the beginning and not reveal until much later.  It reminds me of childhood taunting: "I know why, and you don't, and I'm not going to tell you."  We feel that instead of Danica "not wanting to think about it" it could have been handled differently.  We would have preferred her struggling with the difficulty of being reunited with Clayne on this case, of trying to keep him at an arm's length.
Considering how Her Perfect Mate ended, we thought there would be more than the tid-bits of Ivy and Landon tracking down Ivy's stolen DNA.  There were a few points of view from them as they were working on it, and it interrupted the flow of Danica and Clayne's story a bit.  However, as the novel came to a close, it made sense of why Clayne and Danica's story needed to come before Ivy and Landon's.  With the revelations at the close of Her Lone Wolf, we are interested in seeing what happens next in the X-Ops series.  There might be more than one enemy within the Department of Covert Ops.  Plus, we are already speculating on who will be the main couple.
Overall, we liked Her Lone Wolf though there were a couple reservations.  We liked Clayne and Danica's story within the serial killer detective drama.  Though we didn't care for Danica's reason for leaving Clayne be deliberately hidden throughout the majority of the novel, their eventual HEA smoothed the frustration.  The X-Ops series is an intriguing mythology and we look forward to more, hopefully returning to the missing DNA story arc or exploring more of the information our heroes discovered about their higher ups.
Our Rating:  B- Liked It, but we had a few small issues
About the Book:
Leaving him was Impossible…
It took everything she had for FBI Special Agent Danica Beckett to walk away from the man she loved. But if she wants to save his life, she has to keep her distance. Now, with a killer on the loose and the stakes higher than ever before, the Department of Covert Ops is forcing these former lovers into an uneasy alliance…whether they like it or not.
Seeing her again is even worse…
The last thing Clayne Buchanan wants is to be shackled to the woman who broke his heart. She gets under his skin in a way no one ever has and makes him want things he has no right to anymore. All he has to do is suffer through this case and he can be free of her for good. But when Clayne finds out why Danica left in the first place, everything he's tried to bury comes roaring back—and there's no way this wolf shifter is going to take no for an answer this time.
Release Date: November 4, 2014
Publisher: Sourcebooks
Series: X-Ops #2
ISBN: #978-1402292125
Genre: Paranormal Romance
Format(s): Paperback (352 pages), e-book
Book Source: Publisher/NetGalley
Purchase Info:
Her Lone Wolf (X-Ops #2)
Reviews in the Series:
Her Perfect Mate by Paige Tyler (X-Ops #1)