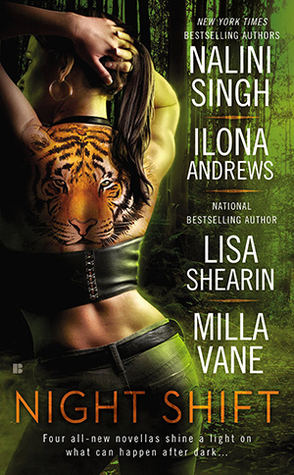 Night Shift
Author: Nalini Singh, Ilona Andrews, Lisa Shearin, Milla Vane
Reviewer: Jen Twimom
Rating: A-
What I'm Talking About:
The Night Shift anthology is a wonderful collection of paranormal and fantasy novellas from some wonderful authors.
"Secrets at Midnight" by Nalini Singh
Psy/Changeling series #13.5
This enjoyable novella from the world of Psy-Changeling shares the romance of Bastien and Kirby. Readers familiar with the series will recognize Bastien as DarkRiver sentinel Mercy's brother. Kirby, on the other hand, is a human who seems to have all the markers of a cat shifter.
Overall, Secrets at Midnight is an enjoyable, easy-going Changeling story. I've missed the Changelings a lot, with the past couple of books focusing on Psy romances. Although there are a few minor spoilers to those new to the series, it's an excellent stand alone look at Ms. Singh's world. The idea of a potential shifter not knowing she's one is unique and interesting. And since this is a Changeling story involving the "mating bond" romance, there is a quick "I love you." However, it fits the flow of the tale. I appreciate how and when the mating bond snapped into place.
My Rating: B+ Liked It A Lot
"Magic Steals" by Ilona Andrews
Kate Daniels #6.5
Told from white tiger shifter Dali's point-of-view, this wonderful novella takes place during time of Magic Rises, when Kate and Curran are oversees on a diplomatic mission. Although the story is stand alone, it will be more emotionally satisfying for those who have read the series and know both Jim and Dali from earlier books.
Magic Steals is by far my favorite story in the anthology, primarily because the Kate Daniels series is my favorite series, and this novella is a shining example of what makes the series so superb. The story is filled with wit, humor, action, and romance, creating the perfect balance with an engrossing mystery. Plus, I love Jim and Dali together. So awesome!
Overall, I simply LOVED this novella. Jim and Dali are so incredibly perfect together. The humor is spot on; the case is interesting. I liked learning more about the mysterious Dali. The romance is sweet, to include a passionate scene that was hot! Fans of the series will adore this novella. Those new to the series will experience a good taste of the Kate Daniels world and writing style of Ilona Andrews.
A+ Personal Favorite
"Lucky Charms" by Lisa Shearin
SPI #0.5
Makenna Fraser, a seer, is on her first day working for Supernatural Protection and Investigations (SPI). Told from her point-of-view, the reader experiences the crazy, underground world of supernatural beings living among, yet hidden from humans. SPI is like the police for supernaturals.
Lucky Charms is an exciting and crazy adventure, matching silly antics and hilarious banter with a bit of a mystery. To give you an example, the description of the SPI office reminds me of any given scene from the Men In Black movies.
I found Lucky Charms to be an interesting prequel story to an existing series (which I have not read). This novella definitely piqued my interest in reading more of the series. The story had solid humor and a storyline that was different and entertaining. While the novella completed its story involving the capture of some leprechauns, it left a huge unknown dangling, enticing me to continue the series.
A- Enjoyed A Lot
"The Beast of Blackmoor" by Milla Vane
The Barbarians series 
The Beast of Blackmoor shares the story of warrior Kavik attempting to win back his homeland of Blackmoor. Unfortunately, he has angered the primary goddess of the land, who in turn has cursed his life. When Kavik recognizes Mala as the woman who will end him, he attempts to keep his distance, only to end up losing his heart to her.
While reading the book, I couldn't stop mental comparisons with shows like Xena and movies like Conan the Barbarian. The world is dark and cruel, complete with wicked creatures and a tyrannical ruler. There are a couple of potentially shocking and/or gruesome scenes.
Overall, The Beast of Blackmoor was enjoyable. However, it is firmly set in the realm of fantasy rather than PNR or UF, so if you aren't a fan of fantasy you may struggle with this one a bit. The story has some slower parts, and the characters aren't as relatable as typical UF/PNR characters. However, I loved that the heroine has a different perspective and ideas of inner strength and faith than those I normally read. I encourage readers not to skip this story, even if it is something different from your norm.
B, Liked It
Overall, Night Shift is a solid anthology with a little bit for everyone. Even if you are picking up this book for one or two of the stories, I highly suggest you read them all!
My Rating:  A- Enjoyed A Lot
About the Book:
New York Times bestselling author Nalini Singh delivers a smoldering story with Secrets at Midnight , as the scent of Bastien Smith's elusive lover ignites a possessiveness in him that's as feral as it is ecstatic. And now that he's found his mate, he'll do anything to keep her.
In #1 New York Times bestselling author Ilona Andrews' novella, Magic Steals, when people start going missing, shapeshifting tigress Dali Harimau and jaguar shifter Jim Shrapshire must uncover the truth about the mysterious creatures responsible.
It's seer Makenna Frazier's first day on the job at Supernatural Protection and Investigations, and her first assignment is more than she bargained for when bodyguard duty for a leprechaun prince's bachelor party goes every which way but right in national bestselling author Lisa Shearin's Lucky Charms.
From Milla Vane—a warrior princess must tame The Beast of Blackmoor to earn a place among her people. But she quickly discovers that the beast isn't a monster, but a barbarian warrior who intends to do some taming himself. 
Release Date: November 25, 2014
Publisher: Berkley
Series: see above
ISBN: #978-0425273920
Genre: Paranormal Romance, Urban Fantasy, Fantasy
Format(s): paperback (384 pages), e-book, audiobook
Book Source: Publisher
Purchase Info:
Night Shift Anthology
Reviews in the Series:
Psy/Changeling series
Kate Daniels series