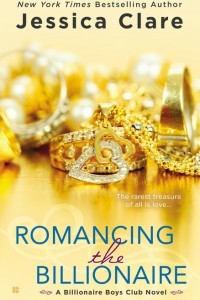 Romancing the Billionaire
Author: Jessica Clare
Reviewer: VampBard
Rating: A
What I'm Talking About:
Romancing the Billionaire, the fifth title in Jessica Clare's Billionaire Boys Club series was my vacation read. I couldn't put it down, folks. I started reading and made it through half the book before I succumbed to sleep. I actually told Mr. VampBard that I needed to finish before we could continue on with vacation activities. For real.
I was super excited to finally get Johnathan's story. I came into this series a little late (and I fully intend to pick up the books I've missed), but have an affinity for these guys. A soft-spot in my heart for how messed up some of them are, and how they manage to overcome adversity in order to win the love of their life. And I felt an extreme draw to Johnathan and Violet's story.
Johnathan Lyons has been the ultimate playboy. He's gone through women revolving-door style, never letting them get to know him, or giving himself a chance to fall in love. He's carried a torch for Violet for ten years, and hoped against hope he would have the opportunity to win her back at some point. I think the reason I liked Johnathan so much is because he reminds me of Mr. VampBard. He's sweet and protective, yet manages to let Violet be herself. He allows her to come to him on her terms, even though they're on a 'mission' set in motion by the death of Violet's father and Johnathan's mentor/friend. Their journey through overcoming the past, reconciling it, and moving forward made me want to be a better person. To learn to love as selflessly as Johnathan, and to forgive like Violet. I know. Shut up, VampBard. Books don't make you feel like that. But really, when you connect with one in a powerful way, they do. Johnathan, while it seemed at times as though he let his money manipulate situations, he was, in my opinion, using his resources. And that's always okay in my book. I did struggle with a couple instances of willy-nilly spending, thinking that Violet would have come around faster if he'd been more like the Johnathan of ten years ago. But, reality check. No one stagnates. We all continue to grow, and our experiences in life shape us. Johnathan would have been lying to himself as well as Violet if he'd been the person he was those years ago.
Life is never easy. Especially when you're the one that seems to be the only responsible person in your family. Looking at the challenges Violet faced growing up—her mother's alcoholism, her father's absence—spoke to me in a way not many books have. I really identified with Violet, not only because she is a teacher, but because of her past. Our pasts shape us in ways that sneak up and bite us in the tush at the most inopportune times, it seems. Just when we think we have everything figured out, a wrench appears and sets us scrambling. I admired Violet for the way she handled her 'wrench' with such grace and acceptance. I only wish that I had the type of personality that allowed me to behave in the same manner. Violet let her past shape her in a way that was understandable, yet against who she really was. She had to become the strong, un-ruffleable woman she became in order to survive her own demons. Unfortunately, those demons were based on lies and misconceptions. The way she dealt with her past and managed to move forward, reaching for an elusive happily ever after, was comforting after the tumultuous set-up. At times, I wanted Violet to just take a leap of faith and let her heart lead her where it wanted to be. But after the years of hurt and the animosity she'd built, it was a bitter pill to swallow, letting go of the things that shaped her into the person she was.
The major conflict in the story was elusive for me. It took me awhile to connect with the plot arc. At the half-way point, I'd connected, but I was power reading to get to a point where it didn't kill me every time I turned a page. My GoodReads comment at the 50% mark was: "OMG. The build-up for this is painful! I totally get why things are the way they are between this couple, but it hurts my heart to read it." I think that really sums up my feelings about the book, too. I was ever so happy when things straightened out, and old hurts were put to rest.
While getting to the happily ever after was difficult for me, I loved the tumultuous journey. I am excited to read more about the Billionaire Boys Club, and I'm salivating for Book 6!
My Rating: A, Loved It
About the Book:
Jonathan Lyons. Playboy, billionaire, and adventurer, he lives life on the edge. When he hears that his mentor, Dr. Phineas DeWitt, had a secret journal that leads to a legendary artifact, Jonathan takes action. It stirs his blood, but it comes with a heady challenge: DeWitt's daughter Violet. She has what Jonathan needs. And she's not giving it up it to the man who broke her heart.
Violet is Jonathan's weakness—he's still in love despite their volatile breakup a decade ago. But Violet's memories have a sharper edge. She's never forgiven him for abandoning her. Or so she thought. When Jonathan's attentions turn seductive, she's in danger of falling for him all over again. And she can't help but wonder…does he really want her, or just what she's hiding?
Release Date: November 4, 2014
Publisher: Berkley
Series: Billionaire Boys Club #5
ISBN: 978-0425275788
Genre: Contemporary Romance
Format(s): paperback (304 pages), e-book, audiobook
Book Source: Publisher/NetGalley
Purchase Info:
Romancing the Billionaire (Billionaire Boys Club #5)
Reviews in the Series:
Stranded with a Billionaire by Jessica Clare (Billionaire Boys Club #1)
Beauty and the Billionaire by Jessica Clare (Billionaire Boys Club #2)