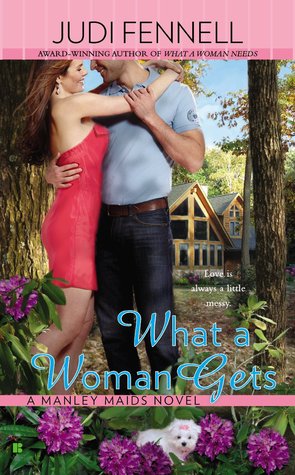 What a Woman Gets
Author: Judi Fennell
Reviewer: Jen Twimom
Rating: B+
What I'm Talking About:
Cassidy Davenport has spent most of her entire life living under the benefit of her father's name. No expense was too great, and Cassidy was expected to be her father's perfect hostess and showpiece. However, after befriending a terminally ill young boy, Cassidy realizes she's tired of living in the gilded cage kept by her ice-cold father.
Liam Manley is one of the four Manley siblings (his two brothers are the main characters of the previous two books). Like his brothers, Liam lost a poker bet with his younger sister, Mary-Alice Catherine (Mac), and must spend a month cleaning the house of Cassidy Davenport to help with his sister's maid service business. When Mitchell Davenport evicts his own daughter out of her home, Liam agrees to take in Cassidy, who is penniless and has no place to go. Although the pair share a strong mutual attraction, past pain and hurt has created tarnished views for both. What will living together do to this pair?
What a Woman Gets is the third story in Ms. Fennell's delightful Manley Maid series. The book overlaps in time with the previous two, even sharing some common scenes; however, each book may be read as a stand alone or in any order. The series chronicles the lives of the Manley siblings as each meets his/her match and falls in love.
I enjoyed Liam and Cassidy's story for what it is: a sweet romance with relatively little conflict. Liam's ex, Rachel, did a number on him, using him for his relative wealth and position. Because of Rachel, Liam believes Cassidy to be selfish and only interested in superficial status. I liked reading Liam's point-of-view as he realizes Cassidy isn't Rachel, although he's using it as an excuse to keep from getting hurt. The author does a great job bringing Liam around slowly, making each interaction with Cassidy count.
Cassidy is a strong woman, and I appreciate getting to know her from both her own point-of-view monologuing, and through her actions in how she deals with both her father and Liam. I liked Cassidy's tenacity and spunk, although I could not relate to the fact that she had no clue how to do basic cooking or laundry. I applaud Cassidy's physical restraint, knowing she needs to trust Liam, and visa-versa, before they can act on their mutual attraction. The pair goes though some back and forth and overanalyzing without conversation; however, the assumptions never get too far before the air is cleared.
The story is primarily a back and forth between Liam and Cassidy, outlining their individual and joint growth. External conflict is provided by Mitchell Davenport, who threatens to bring down Mac's business when he doesn't get his way. While I enjoyed Cassidy's eventual showdown with her overbearing father, the added conflict with another member of her family was little too much for my liking. I'm glad Cassidy got the closure she needed, but it was almost a little too neat and tidy.
Overall, I enjoyed What a Woman Gets. The light-hearted, relatively drama-free, happy-go-lucky romance was the perfect read on a rainy day when I could just sit back with my tea and enjoy in the coziness of my couch. Sometimes I just need to read stories like this one to make me smile and enjoy life!
My Rating:  B+ Liked It A Lot
About the Book:
What happens when three irresistibly sexy brothers lose a poker bet to their enterprising sister? They get hired out for her housecleaning venture. Now, the Manley Maids are at your service. Satisfaction guaranteed. It's what a woman gets…
Business owner Liam Manley has no patience for women like Cassidy Davenport—women happy to spend a man's money without giving a thought to any actual work. But to make good on his bet, Liam must not only tolerate the couture-clad socialite, he'll have to clean up after her. Until Cassidy's father suddenly cuts off her finances. With no money and no home for Liam to clean, Cassidy has no choice but to accept a job offer—as Liam's new maid…
Liam is eager to teach her a lesson about the real world, but he winds up learning a few things himself. Free from her father's influence, Cassidy can finally pursue her own life, and winds up showing Liam how resourceful and determined she can be. Not to mention how sexy she is with (or without) that designer wardrobe. But when sparks fly between them, will it be true love…or just another messy affair?
Release Date: November 4, 2014
Publisher: Berkley
Series: Manley Maids #3
ISBN: #978-0425268315
Genre: Contemporary Romance
Format(s): paperback (320 pages), e-book
Book Source: Publisher
Purchase Info:
What a Woman Gets (Manley Maids #3)
Reviews in the Series:
What a Woman Wants by Judi Fennell (Manley Maids #1)
What a Woman Needs by Judi Fennell (Manley Maids #2)