Thank you for stopping by That's What I'm Talking About for today's Mistletoe Madness spot. For a line up of all of the authors featured here and at The Book Nympho, and to enter the overall event giveaway for a free book (two chances to win!), please click on the image above or go to the kickoff post on November 26, 2014.
Today's Mistletoe Madness author is…
Judi Fennell
Book: What a Woman Gets
Release Date: November 4, 2014
Publisher: Berkley
Manley Maids…
Just a little something to add to your Christmas list.
(And the books by Judi Fennell might be a good idea, too.)
What happens when three irresistibly sexy brothers lose a poker bet to their enterprising sister? They get hired out for her housecleaning venture. Now, the Manley Maids are at your service. Satisfaction guaranteed. It's…
What a Woman Gets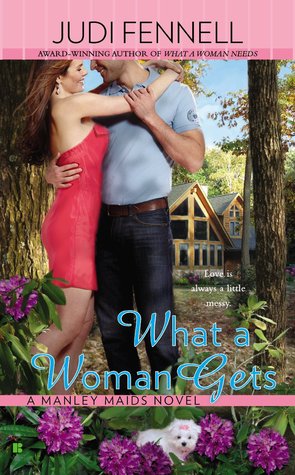 Business owner Liam Manley has no patience for women like Cassidy Davenport—women happy to spend a man's money without giving a thought to any actual work. But to make good on his bet, Liam must not only tolerate the couture-clad socialite, he'll have to clean up after her. Until Cassidy's father suddenly cuts off her finances. With no money and no home for Liam to clean, Cassidy has no choice but to accept a job offer—as Liam's new maid…
Liam is eager to teach her a lesson about the real world, but he winds up learning a few things himself. Free from her father's influence, Cassidy can finally pursue her own life, and winds up showing Liam how resourceful and determined she can be. Not to mention how sexy she is with (or without) that designer wardrobe. But when sparks fly between them, will it be true love…or just another messy affair?
Cassidy Davenport stood before him in the flesh.

Flesh colored pants, flesh colored top, and enough buttons unbuttoned to reveal a lot more flesh.

Liam worked hard to keep from groaning. Mac had assured him she wouldn't be here. Not on Mondays. Yet here she was.

Cassidy Davenport. Pampered socialite whose daily clothing bill was probably more than a blue collar worker earned in a week—and he doubted she'd know a blue collar worker if he came up and bit off her ridiculously priced manicure. The woman was frivolous with a capital F.

He was done with frivolous. Been there, done that, spent a fortune on designer clothes and rhinestone-studded T-shirts for his ex, Rachel, that had matched the diamond studs she'd insisted on having.

The scene in Flannigan's Pub came back in blinding clarity. Rachel giving a lap dance to that damn pretty boy frat guy with a tab longer than his dick, one hand down the back of his pants while she rubbed her chest all over the kid's face.

Liam had stood there in stupefied disbelief, watching her talented fingers—that he'd thought had been reserved for his pleasure alone—slip the wallet from the kid's pocket and into her own, and no one at the table, least of all the kid, had been any wiser. A socialite-wannabe stealing money because he wouldn't pander to her shoe-and-pocketbook habit.

He'd backed out of the place, sick to his stomach over the loss of what he'd thought had been his future, questioning everything he'd thought he'd known, then he'd driven home in a fog, hurt and disillusionment overshadowing everything else.

Eventually, anger had risen like a phoenix from the ashes of his love, so when she'd shown up later with that new Louis Vuitton bag she'd said was a knock-off, he'd called her on it. On everything.

Rachel hadn't denied it. Hadn't even tried to manipulate him with tears into taking her back—for once—when he'd demanded his key. He'd been almost as surprised at that as the bar scene. She'd merely shrugged, handed it over, thanked him for a good time, and sauntered down his front walk, shredding his heart beneath the damn Manolo What's-their-names he'd bought her.

No, women like Rachel—and Cassidy Davenport—women who lived off the hard work of the men in their lives . . . he was done with them. He'd been played once, but luckily, not to the point of no return. He'd learned his lesson: stay away from the high-maintenance types who only had looks to commend them.

He was really going to have to work for this job. And not to keep it.

"You're the maid?"

Liam winced. Surely there had to be a better term, but domestic goddess didn't exactly fit, while housekeeper brought up an image of the Brady Bunch.

He gripped the vacuum cleaner and straightened his shoulders. His pecs flexed—purely involuntarily of course. "Um, yeah. I am."

He didn't have to be a college graduate—though he was—to read what she was thinking when her gaze ran over him from head to toe. Mac didn't run that kind of a business.

"They didn't tell me they were sending a guy."

"Is that a problem?" God, let her say "yes" so he could get the hell out of here, because he felt a sudden need to clean something—himself. Women like her got under his skin and not in a good way.

They used to, but what was the saying about repeating history's mistakes? Liam had zero intention of doing that.

"Well, no. I guess it's not a problem." She tapped one of those ridiculously priced nails on her surprisingly non-collagen-enhanced lips. "Won't you come in?"

"Uh, yeah. Sure." Mac would kill him if he said no. This had been his baby sister's first account. That's why she'd selected it for him, she'd said; she knew he wouldn't lose it for her.

So he sucked up his innate prejudice against the Cassidys and Rachels of the world, and took the step up into the foyer beside her.

She was smaller than she'd first appeared now that they were on the same level.

Then he got a look around the place. No way would they ever be on the same level.

Rich dripped from the chandelier with the pear-sized crystals. It wove through the gold-threaded rug, vined through the marble floor, and scented the air with the hint of millions.

Liam had money, but this . . . Even the froufrou little dog had a gilded cage. This was on the level of the Donald Trumps and Conrad Hiltons of the world.

And Mitchell Davenports. The Trump-in-training had turned a small construction business into a residential and commercial design and management firm in an enviable amount of time. But none of this was actually Cassidy's of course. She lived off Daddy's money.

Liam checked his grip on the vacuum and made sure none of the cleaning products had fallen out of the bucket—so not his MO around beautiful women. But then, Cassidy Davenport was more Bryan's or their pro-ball player friend Jared's type than his these days. He was done with women who  looked down their noses at men who couldn't give them what they wanted.

He glanced at Cassidy's nose. Perfectly pert in that rhinoplastic way of the rich, but she'd never get the chance to look down it at him. He'd learned his lesson and women like her, while not a dime a dozen—because they upped the ante to about a hundred thou a dozen—were so far below women who knew how to make their own way in the world that all he felt for her kind was anger at such uselessness.

But he wasn't here to judge; he was here to clean. For four frickin' weeks.

He should have folded that last hand. Taken his losses and lived with them. But Manleys didn't go down without a fight. It was how he'd made his own fortune, inconsequential though it was when compared to this place. The one he was supposed to be cleaning.

He gripped the vacuum wand and planted it in front of him. "Where would you like me to start?"

"I guess the bedroom's as good a place as any."
See more in the Manley Maids series:
Book 1: What a Woman Wants
What happens when three irresistibly sexy brothers lose a poker bet to their enterprising sister? They get hired out for her housecleaning venture. Now, the Manley Maids are at your service. Satisfaction guaranteed. It's what a woman wants…
Resort entrepreneur Sean Manley was all set to buy an historic mansion at a great price, making a name for himself while making millions, when the seller and a poker bet change the game. Now he's in the place as a hunky male maid and there's one more complication: Livvy Carolla.
The house is Livvy's inheritance. Her plan? Unload it to the highest bidder and use the cash to start her own bakery business. One look at "the help" and she's hot to take him with her. Until she finds out he's got a secret agenda.
But when Sean falls for the free-spirited, strong-willed Livvy, he has new ideas for the estate—and Livvy's part in it. If all goes well, they'll both be getting what they want. And then some.
Book 2: What a Woman Needs
What happens when three irresistibly sexy brothers lose a poker bet to their enterprising sister? They get hired out for her housecleaning venture. Now, the Manley Maids are at your service. Satisfaction guaranteed. It's what a woman needs…
Big shot movie star Bryan Manley is destined for fame and fortune, not a repeat of his penny-pinching "normal" childhood. But a bet is a bet, so he agrees to play maid for Beth Hamilton—as long as he can use his servitude as research for his next role, and then resume his life in the spotlight.
After her husband's death and the publicity surrounding it, all Beth needs is a quiet, normal life for herself and her children. She never expected a new Prince Charming to show up at her door, let alone as the new maid. But when the paparazzi follow, Beth is sure of one thing: Bryan has to go.
Then flirtation turns into seduction, and Bryan needs to convince Beth he's more man than maid—or an actor playing a maid. Because this latest gig as the love of Beth Hamilton's life just might be the role of a lifetime…
Book 4: What a Woman, coming March 2015
After starting her housecleaning company, Manley Maids, one woman is determined to make it on her own. And what a woman she is…
Now that Mary-Alice Catherine Manley—Mac—has her hunky brothers working for her, she can sit back and watch the business roll in. But her new assignment quickly tosses that plan out the window. Mildred, her grandmother's best friend, needs her house cleaned and Gran has volunteered Mac for the job. The problem is Mildred's cocky grandson. He thinks Mac's at his beck and call, but she has a few things to tell him…aside from how hot he is.
Jared Nolan is currently lying low, nursing some broken bones—and a bruised ego. The former professional baseball player let himself be used by woman once, and now it could rob him of his beloved career. No woman is ever going to call the shots again, which is why, when the bossy Mac shows up, he's going to show her who's really in charge. He's just not prepared for the undeniable attraction between them. And with the two of them in one house, there's no telling who will come out swinging…
So were you a good girl this year or not? Either way, ask Santa for your very own Manley Maid. What's one other thing on your holiday wish list?
About the Author:
Award-winning, best-selling author Judi Fennell loves to laugh and loves love, so it's no surprise there's a little bit of each in every book she writes. Check out her fairy tales with a twist for a taste of her light-hearted tongue-in-cheek paranormal and romantic comedies, from mermen to genies, to male strippers and men in maid's uniforms, there's always a laugh and love to be had. www.JudiFennell.com.
Giveaway:
Judi is generously giving away a signed paperback ARC of What a Woman Gets to one (1) lucky commenter. To enter, please fill out the Rafflecopter form AND leave a comment letting Judi know one item on your holiday wish list. The giveaway is open during the time specified on the Rafflecopter form. Winner(s) chosen at random from all eligible entries. This contest is open to US mailing addresses only, where not prohibited by law. Open to participants, 18 years or older, who are legally allowed to participate in such a contest as allowed by their local laws. All federal, state, local, and municipal laws and regulations apply. Void where prohibited. No purchase necessary. By participating in the contest, participants agree to be bound by the decisions of the contest sponsor. Prize will be delivered by the author. This blog, its reviewers, and the owner are not responsible for items lost in the mail. By entering this giveaway, participants agree to abide by these terms.
Please email me at twimom227 (at) gmail (dot) com if you have trouble with the Rafflecopter form.
Now, head over the THE BOOK NYMPHO to see today's feature with Grace Burrowes.